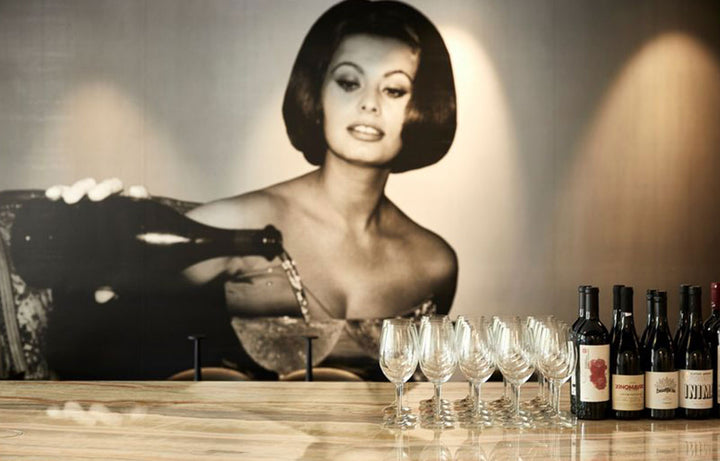 Vini Divini Wine Lab
At a time when people are craving connection and overseas holidays have been put on hold, Vini Divini Wine Lab is bringing people together to celebrate the simple pleasures, spark conversations and transport oneself to the sweet life – 'la dolce vita' – with the opening of this small Mediterranean wine bar.
Close relationships with friends and family, and the interactions one has in a community, are central to the Mediterranean lifestyle – and this was very important to our concept.
At the heart of Vini Divini is a large central bar, reminiscent of a large kitchen bench in your home, where our owner, Philippe Gilbert, personally brings people together to laugh, pour wine, break bread and share stories or ideas.
Philippe's desire to bring people together in these unprecedented times and share his passion for the Mediterranean lifestyle and culture is in his blood. Emigrating to Belgium from Italy during WWI, Philippe's great-grandmother opened the first Italian speciality delicatessen in Antwerp in 1940. Philippe's other great-grandmother who also emigrated from Italy during WWI launched the first Italian gelato cart in Brussels in the 1930s. Both these women brought so much joy to so many children and adults alike during these dark years in European history.
Beetroot Marinated Artichokes with Toasted Almonds 
What are your three favourite wine recommendations for this summer? 
We asked our Sommelier, Raphael Mulligan, what were his top three recommendations this summer – and it's Greece and Turkey that are exciting him! He's just returned from Athens where he was completing his WSET Diploma International course, and he's been inspired!
• Gaia Rosé from Peloponnese, Greece – dry, fresh, textural – and perfect on the terrace soaking up the afternoon sun!
• Suvla Karasakiz from Gallipoli, Turkey – a chilled red from Turkey, very refreshing, it's like drinking strawberries and cream!
• Sigalas Assyrtiko from Santorini, Greece – this is like drinking oysters; bone dry, marine on the nose, immediately transports you to the Greek Isles!
The Cellar 
What makes the perfect antipasto plate?
Our Chef, Seda Güç, believes the secret to the perfect antipasto is to keep it simple and fresh! Technically, antipasto means 'before pasta' – however it can easily form the basis for a perfectly balanced and satisfying meal too! A few of our favourite ingredients to add to an antipasto plate include Wagyu Bresaola and Prosciutto di Toscana; Umbrisco di Prosecco (a washed rind cheese soaked in Prosecco); Beetroot-Marinated Artichokes with Toasted Almonds; and Marinated Olives – all served with fresh Pioik Bakery Baguette and olive oil.
What's exciting about our menu though is that you can create your own Antipasto – choose a selection of plates that excite you!
What's your go-to summer recipe?
Our go-to recipes this summer are simple, fresh and easy – that's our motto!
Seda couldn't decide between the Kingfish Crudo and the Beetroot-Marinated Artichokes with Toasted Almonds as her go-to recipes this summer…so why not have them both!
The Kingfish Crudo is fresh with a beautiful rich flavour, a combination of wholegrain mustard, truffle oil and lemon with the crispness of the witlof leaves.
The Beetroot-Marinated Artichokes are a unique spin on a typical Mediterranean dish. It's light, fresh and exciting for the taste buds!
The Terrace Kingfish Crudo
1. Dice the Kingfish
2. Mix wholegrain mustard, truffle oil, lemon, and season with salt and pepper
3. Combine dressing with Kingfish
4. Serve the Kingfish Crudo in individual witlof leaves
Beetroot-Marinated Artichokes with Toasted Almonds
1. Reduce beetroot juice to get a more intense colour and flavour
2. Marinate artichokes in beetroot juice with dill stalks overnight
3. Serve with fresh dill, toasted slivered almonds and cracked pepper
Philippe Gilbert welcomes you to Vini Divini + Kingfish Crudo 
Instagram: @vinidivinisydney 
Website: www.vinidivini.com.au 
Press contact: Hannah Gilbert - [email protected]