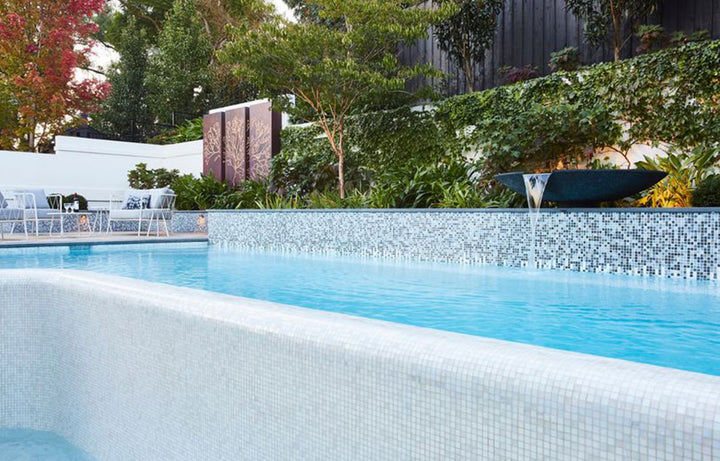 Ask the Experts: An Insiders Guide to Swimming Pool Designs
Pools can be a great place for entertaining during the warmer months. Not only do they provide a nice spot to cool down, but they can also be a wonderful feature of a garden. With the summer upon us, we thought we'd interview three pool designers and landscapers to help us out with some tips and tricks regarding pool positioning, design, and landscaping.
MINT Design is a Melbourne-based pool and landscape design company that has more than 25 years of experience in the industry. Their Insta is filled with luxuriously stunning pool landscapes that make you want to get your togs on and go for a dip!

We asked MINT Design's Darin Bradbury about how pool design and landscaping have changed over the past 10 years.

'Pools used to be a basic rectangle with a few steps. Designed without much thought,' he says. 'Now we consider how 'social' a pool is and integrate features that cater to different age groups so that there is something in the pool for everyone (kids and adults). We do this by integrating bench seats and shallow areas in areas that encourage people to spend more time in their pool area.'

'The other thing that has changed over the last 10 years is that pools have become the central feature of backyards,' he continues. 'People are investing more money now in making the pool not just a hole in the ground but a feature of the landscape in their own right. They are better connected to our houses and outdoor entertaining areas.'

Barwon Heads project, MINT Design 

Based in Melbourne, Sabo Design is a Landscape Architecture design studio, founded by Lily Sabo. The company also work as a swimming pool design consultant for those looking to add a beautiful pool to their garden.

Fans of The Block might recognise Sabo Design as the landscapers of the 2020 winners, Jimmy and Tam!

We asked Lily for some tips on landscaping a pool area. 'Think about the usability of the space, in particular the location and style of pool fence,' she says. 'Give yourself plenty of space around the pool for lounging, bombing etc. No one likes a pool looking like a fish bowl! So, keep the fence away from the water!'

When it comes to landscaping the surrounding pool space, Darin says to create somewhere you're excited to use. 'Make it inviting,' he says. 'When you look out to your pool area it should be a space that you look forward to using. Do this by using a simple palette of beautiful materials and bringing plants right into the social areas of the landscape using contemporary pots planted out with bold foliage.'
Hampton Project, Sabo Design 

Harrisons Landscaping is a Sydney-based company founded by Josh Harrison. Josh was just 22 when he started the company.

'I began my career at the grassroots level, as a landscaping apprentice,' he says. 'I finished high school and loved being outdoors, so landscaping seemed like the perfect fit. The fact that the workday finished at 3:30pm which meant I could surf every afternoon was also a huge factor.'

Josh says he's seen pool design become more refined and less extravagant over the past 10 years. 'It's been simplified and refined,' he says. 'There was a period about 10 years ago when every pool had a glass window or swim-up bar. "The use of polished concrete is becoming very popular."

Fortunately, designers are exercising more restraint and creating more elegant designs which focus on the material palette more than simply trying to fit in as many features as possible.'
Coogee Project, Harrisons Landscaping 

Darin says he's noticing a trend of modern pool design focusing on simplicity and materiality too.

'We're seeing a move towards simpler pools with a focus on materiality rather than big bold statements like negative edges,' he says. 'I think you'll start to see the designers experimenting with large format tiles and surfaces in a way we've never seen before. It's a more restrained and elegant style that is a direct response to the over-complex and detailed pools we've seen in the last 5 years.'

Lily says it's a good idea to ensure there is integration between the pool and the home.

'A pool really is another room in the house,' she says. 'People are heavily invested in using the pool as much as possible so the integration between house and pool is more important than ever. Gone are the days of a big pool in the middle of a yard.' Picking the position of your pool is an important decision.

The placement option will often depend upon your specific yard and features, but there are a few other elements worth considering. According to Lily, a good place for a pool is 'ideally somewhere where you gain the afternoon sun but also where the pool can be seen from the house.

'Given Melbourne has a shorter swim season, the pool does act as a water feature for much of the year,' she says. 'Let's show off the pool and highlight it from the lounge/kitchen.'

Darin says pools should be placed 'in an area that both maximises visibility of the pool from the house and makes the pool more usable.'

'Every site is different but the more visible the pool is and the easier it is to access the more value you will get out of your pool area,' he says.

Josh echoes this statement, saying they should be positioned as close as the house as possible. We're lazy creatures by nature, and it's no fun being made to walk too far for a quick dip,' he says,
'From a design perspective; it's nice having the connection between the pool and home as seamless as possible.'


(Image) Hampton Project, Sabo Design 
When it comes to picking a colour for your pool and surrounds, there are many choices to choose from (and things to consider). Some people may wish to go with neutral colours that match the theme of their home, while others may choose something a bit zany, bright, or tropical as an eye-catching feature.

Darin says his favourite colour schemes for pool areas are 'greys, whites and natural timbers punctuated with big leafy greenery'. 'It's a classic combination but there's a good reason for that,' he says.

Lily agrees. 'Sticking to classic tones of white and grey is always a classic look; white walls, grey paving or light-toned timber decking,' she says. 'I love to add pops of colour with lush planting in pots from The Balcony Garden.' [thanks Lily!]

Josh says that when it comes to pools, he's a blue water fan.

Bondi project, Harrisons Landscaping 

'They say you're either a blue water person or a green water person,' he says. 'I'm definitely a fan of blue water. I try not to use really light colour tiles around the pool as it creates too much glare.'

Like any feature, pools can go through cycles of what is in vogue. Regarding the current trends in pool design, Lily says she is seeing more curves and people taking bigger risks regarding design. 'I feel people are taking bigger risks with the shape of their pools,' she says. 'I'm seeing more curves, kidney-shaped pools and bolder, coloured tiles.' Like Lily, Josh is also noticing the curves.

He says he's noticed a trend of smoother, smaller pools coming into fashion. 'Curves are slowing creeping back in which is really cool,' he says. 'Pools are also getting smaller in overall size. I think this is partly due to block sizes getting smaller, but it's also due to people wanting a more varied landscape. For example; people don't just want a huge pool taking up their entire yard. They want the pool, lawn area, entertaining area, etc.'

Looking for more inspiration? Take a look at the Insta feeds of Harrisons Landscaping, Sabo Design, and MINT Design.

All images remain copyright to Harrisons Landscaping, Sabo Design, MINT Design.