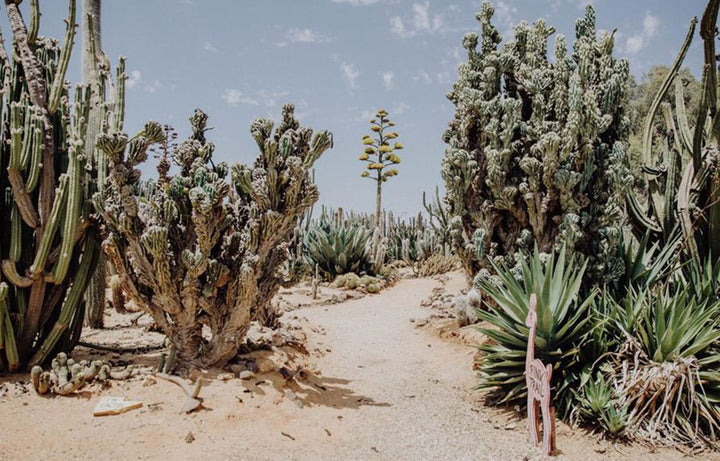 Cactus Country
Want to walk blissfully through desert sand, surrounded by a wide variety of cacti, without leaving Australia? Then why not go on a little trip out Cactus County!
Cactus County in Strathmerton, Victoria is home to Australia's largest cactus collection. With a garden that spans across a whopping 12-acres, and thousands of varieties of plants, Cactus County offers a unique experience for those wanting to take a wander somewhere a little different. You can even enjoy a cheeky margarita or Mexican beer in their café in one of the relaxing courtyards!
The garden was started by Jim Hall in 1986. Jim had grown up seeing his father's cacti garden and had been gardening and propagating cacti from around the age of 5. When his father decided to sell his collection in 1979, Jim didn't want to let the opportunity pass by, so he and his soon-to-be-wife, Julie, purchased them! In 1984, Jim and Julie Hall purchased a second collection, which had belonged to the late Ed Kroemer, who travelled the world collecting cacti.
As with most aesthetically gorgeous places, Cactus County has played host to a number of memorable events over the years. Jim and Julie's son, John Hall now also helps out with the garden, and says that it's hard to choose a favourite when it comes to the events that Cactus County has witnessed.
'The real wedding shoots are always fun,' he says. 'Seeing excited, young couples tie the knot, and then seeing the photography and videography afterwards is great because you get to see behind-the-scenes after working with people to create their special day.'
But it's not just weddings that Cactus County has hosted. 'We've also had brands like Mister Zimi shoot here… Zoe and Jimmy really helped kick things off,' John says. 'We are forever grateful to them, they were an absolute dream to work with, and the clothing they create suits our venue so well. We ended up supplying them with some feature plants for a courtyard in Melbourne. We still touch base on the odd occasion, when our paths cross.'
'Since Mister Zimi, we've had huge brands like Samsung shoot, and great Aussie labels like Birdnest clothing. Mum ended up buying about five dresses after their shoot because she fell in love with them!'
The venue also hosts its own events, such as Day of the Dead. 'We've been running Day of the Dead for a few years now,' John says. 'We really created it because we love the culture and what the celebration means. We try to keep it as authentic and genuine as possible. Last year we had an incredible 5-piece mariachi band play. They brought two dancers with them, and we had quite a few people getting up to dance on the night. We also had a huge cemetery area, decorated with flags and plants and skulls. People had the opportunity to join me for guided tours of the garden throughout the night. It was so much fun next year will be bigger and better, again.'
With so many different types of cacti and succulents to admire at Cactus County, you're sure to walk away with a newfound appreciation of the plants. If you'd like to walk away with an actual, physical plant too, Cactus County has a wide range of pot plants available for sale! Prints, moisturiser and stubby holders can also be purchased in the gift shop. If there's a particular species you have your heart set on, you can contact them to see if it's in stock. If it's not, there's always a chance they could pick a cutting for you if there's enough spare in the garden!
When it comes to his favourite plant, John says: 'I personally love the Pasacana Terscheckii because they grow so big and have so many arms!' he says. 'Maybe one day we can cross-pollinate them and get a coloured flower, they currently only have white flowers.'
The future looks bright for Cactus County, with plans to grow the garden even more. 'Keep an eye on this space,' John says. 'We are expanding the garden another 8-acres, which will make it 20-acres of cacti and succulents from North America, Mexico, South America, and South Africa!'
Cactus County is open seven days a week, 9am – 5pm. As of February 2020, adult tickets are $17.50, senior tickets $15, child tickets $7.50, and infants have free entry. You can also purchase a Season Pass, or book a gorgeous Sunset Tour (which includes dinner!). The Sunset Tour lets you and your friends and family explore the gardens beneath a galaxy of stars.
So, if you have a passion for cacti and succulents, add Cactus County to your bucket list, and experience 12-acres of this Strathmerton exotic garden!
Check out the Cactus County website to find out more about the gardens, and book you next adventure!
Cactus Country, 4986 Murray Valley Highway, Strathmerton, VIC 
Instagram: @cactuscountry 
Website: www.cactuscountry.com.au
You may like Slugg's list of The 20 Best Cactus Plants.