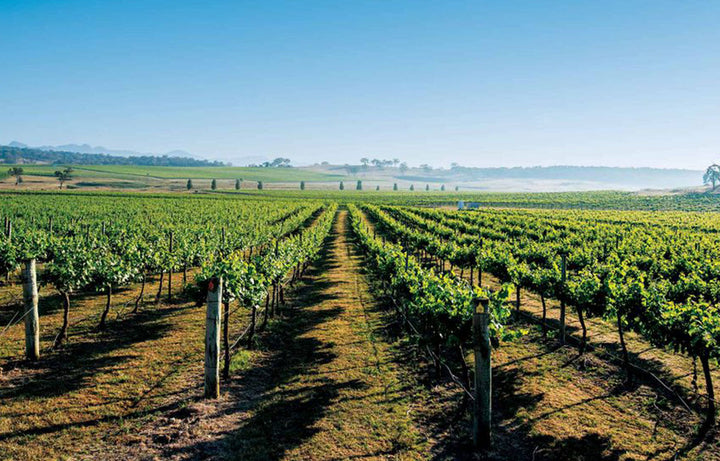 Hidden Country Gem
The Balcony Garden's Marketing Manager Belle, grew up in a small yet charming country town in the Central Tablelands of NSW,  a special place she will always call 'home'. We've seen our rural communities suffer due to the impact of drought, bushfires and covid so she thought this would be the perfect opportunity to support her hometown of Rylstone. Belle has teamed up with her favourite local winery De Beaurepaire Wines who have put together an amazing travel guide for the Rylstone area.
Named one of the top secret spots in Australia, Rylstone is a bustling historic agricultural town dating back to the 1830's that we are proud to call home.
There's so much to love about Rylstone! Whether you're wine lovers; foodies; golfers; water, biking + hiking enthusiasts; artisan wool + yarn devotees; heritage buffs; country pub fans; nature ninjas; or all of the above, Rylstone has something special to offer in stunning surroundings.
With a variety of accommodation types from vineyards to farm-stays; pubs; cottages to luxury houses; and camping to glamping, there's accommodation to suit all types.
A scenic 3 hour drive from Sydney/Newcastle/Hunter Valley; 2 hours from Orange/Millthorpe/Dubbo, 1.5 hours from the Blue Mountains/Bathurst, and 45 minutes from Mudgee…why not plan a road trip, book your recovery weekend, and come and experience for yourself what we love about Rylstone. There's never been a better time to #loveNSW and #loveRylstone. We look forward to welcoming you to our hometown.
Wine Lovers
Rylstone is home to 3 family-owned boutique, cool climate wine producers that are part of the Central Ranges region of NSW. De Beaurepaire Wines - home of 2018 Australian Wine of the Year Home of 2018 Australian Wine of the Year, we produce 16 terroir-driven, French-style sparkling, white, red, rosé & dessert wines…all crafted from our own grapes grown right here on our vineyard in Rylstone.
Our cellar door is open Thursday to Monday, between 11am and 5pm. We offer a number of wine experiences for you to enjoy that give you the opportunity to explore why our wines are sought after by Australia's top restaurants and luxury hotels. Our cellar door experiences go beyond the traditional and reflect the love and personal care we show to our vines and wines. We also offer grazing boards for you to enjoy on our picturesque cellar door lawns.
Elephant Mountain Wines: A 6-hectare vineyard located in the shadow of Elephant Mountain, Lue. Elephant Mountain Wines are best known for their cool-climate shiraz, rosé & pinot grigio. Currently their cellar door is located in Mudgee at 68 Edgell Lane, Buckaroo NSW 2850 
Naked Lady Wines: Located in between Rylstone and Kandos, Naked Lady Wines are best known for their cool-climate cabernet and rosé. Their cellar door is located at 2222 Bylong Valley Way, Rylstone, NSW, 2849.
And for those looking for a non-wine tipple, why not pay a visit to Craft Works Distillery in Capertee. Calling all artisan single malt whiskey lovers, this is the place to visit! You'll need to contact them to arrange a visit, but if you're serious about single malt whiskey, then it really is a must.
Foodies
Rylstone really is a foodies' delight. With handmade dumplings, Mexican oozing fresh ingredients, locally grown saffron and honey, internationally recognized extra virgin olive oils, dutch treats, old school lollies, 3 cafés with barista coffee and locally sourced produce, and 2 popular country pubs (one built in the 1800s with great live music in its beer garden), you have a plethora of choices to sate your appetite.
Our community's annual long lunch, Rylstone StreetFeast, is not to be missed. The main street is closed, lined with long tables, and a sumptuous feast of local food and wines is served to enjoy, along with live music. It's a sell-out event, so don't forget to get in early for your tickets. Streetfeast is on November 5th, 2022.
Year-round, here's a sample of what's available….and there's much more to explore as you wander down our scenic main street. 
Rylstone Olive Press: #1 Ranked Australian Extra Virgin Olive Oil; Top 5 Globally. Absolutely superb olive oil that we personally use for our cellar door grazing boards, as well as our vineyard events. Enjoy a tasting and a tour of their olive press 
29nine99 Yum Cha and Tea House: Gourmet Traveler best rated dumplings in regional Australia. Enjoy a selection of hand-made dumplings and an array of exquisite teas or local wines. 
Pepinos Mexican Restaurant: Hugely popular offering lovingly prepared, traditional Mexican food, using fresh ingredients. No tex-mex here! They make a mean margarita, as well offering an array of local wines and Mexican beers. 
The Globe Hotel: Wonderful country pub dating back to the middle of the 19th century which serves up a great country pub meal, and has a lovely beer garden. 
The Saffron Kitchen & Cafe: Café and art gallery in one, offering great coffee, café food and homemade ice-cream, as well as artisan saffron-infused products made from their own saffron plantation.
Shopaholics
A meander along Rylstone's beautiful main street highlights a variety of boutique stores offering an array of interesting goods to tempt even the most jaded of shoppers. A couple of our favourites are: 
Folkologie: The ever so stylish Folkologie offers beautiful handcrafted furniture and divine homewares. We really struggle to leave this store without some of their beautiful handmade treats! 
Almost Anything Emporium: Looking for local produce and artisan crafts? Look no further than the Almost Anything Emporium…Go on treat yourself to a little bit of Rylstone to take home with you! 
Convent Chapel & Wool Shop: Purveyors of premium artisan yarn and a selection of hand knits. It's a great opportunity whilst you're in town to acquire wool from arguably one of the world's most famous sheep areas, with nearby Pyramul supplying the wool for Italian men's fashion house, Ermenegildo Zegna's suits. 
The Lollipop Shop: Want to relive your childhood? They have a fabulous array of old-school lollies and chocolates, as well as quality wooden toys, homewares and giftware to tempt you.
Nature Ninjas
Rylstone acts as the gateway to the World heritage-listed Wollemi National Park and the beautiful Bylong Valley – bush, birds and water life a plenty to tempt even the most intrepid hikers, fishers and twitchers. 
Ganguddy (formerly known as Dunns Swamp), Ferntree Gully and the Capertee Valley (the world's second-largest canyon) are three of our favourites – pack a picnic, take your kayak or fishing rod, grab your trainers and head off to explore these truly beautiful locations. Southern Cross Kayaking offers wonderful guided kayaking tours of Ganguddy – an absolute highlight in our region!
For those who love a country drive or visiting from Newcastle / Hunter Valley, Rylstone sits at the end of Drive Magazine's Top 10 Great Australian Drives – Bylong Valley Way.
Sports Enthusiasts
We're not short of sporting activities either. We have a golf course in nearby Kandos, that was designed by the same people who built Royal Queensland and Elanora. Henbury Golf Course offers an architect-designed 18-hole course, backing onto the Capertee Valley and the Wollemi National Park, and is lovingly maintained by a group of dedicated volunteers.
You will need to forgive the dryness of the fairways at the moment due to the drought, but the layout makes for a challenging game and the greens are kept wet. You will need to take your own golf clubs.
Interested in water sports? Look no further than the Cudgegong Waters Park located on Windemere Dam which offers boating, fishing (Murray Cod, Golden Perch, Silver Perch), water-skiing and kayaking.
Or perhaps dirt bike riding is more your thing? The Louee Enduro and Motocross Complex is located on Lue Station and specializes in off-road bike riding. It offers five Motocross Tracks as well as special areas for juniors and novice riders. And the avid 4×4 crew are also looked after at Bylong Creek 4×4, which offers 800 acres of mixed terrain for you to test out your 4×4 skills.
Full article written by De Beaurepaire Wines which includes accommodation and events can be read here. 
Instagram: @debeaurepairewines 
Website: www.debeaurepairewines.com