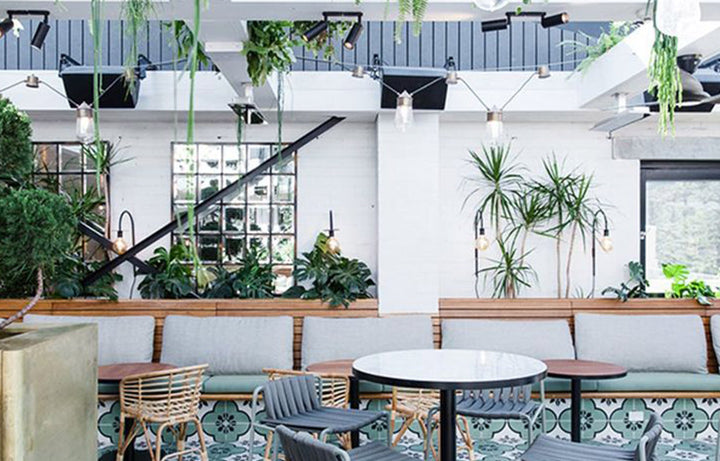 Four Plant Filled Restaurants
What could be better than enjoying a coffee or cocktail with some pals and being surrounded by beautiful, lush greenery? Indoor plants can help bring life to a space and here we showcase four Aussie cafés/restaurants that do just that!
Manly Greenhouse
If you like the idea of eating lunch or sipping a delicious cocktail while staring out at the ocean surrounded by plants, then Manly Greenhouse may be the spot for you. Located in the northern beaches of Sydney, this light-filled venue is packed full of plants, including gorgeous plants cascading from the ceiling. Manly Greenhouse has three sections; the street-level 'Greenhouse' which offers casual, beach-side dining, the 'Grill' which – as the name suggests – has a menu based around a large charcoal grill, and 'Rooftop', a rooftop bar with wide views of the sea. This venue is open seven days a week, and is the perfect destination for the warmer months! Manly Greenhouse, 36/38 South Steyne, Manly, NSW
Higher Ground
Positioned in Melbourne's CBD, Higher Ground is a venue that describes itself as 'not quite a café, not quite a restaurant'. This multi-levelled space features exposed brick walls, gorgeous arch windows, and plenty of light, giving it New York loft-style vibes. There is also a whole heap of different plants scattered about for lovers of greenery to check out! It is open seven days a week, and until 11pm from Thursday through Saturday (excluding public holidays). Higher Ground, 650 Little Bourke St, Melbourne
The Smug Fig
The Smug Fig is a café located within the Cottage Garden Nursery in East Brisbane. As you can imagine, with it being positioned within a nursery there are plenty of plants nearby! From the greenery dangling from the walls to the cute potted plants positioned around the café, this location is well-suited for nature lovers! If seeing the plants at the café has you hungry to check out more plants, you can always pop into Cottage Garden Nursery on your way out! The Smug Fig often hosts live music and is open seven days a week. The Smug Fig, 999 Stanley Street East, East Brisbane
Bar Botanik 
Bar Botanik is an inner-city space that sells home wares, coffee, and of course, rare plants! Located in West Perth, the family-run Bar Botanik is filled to the brim with beautiful plants. This venue also operates as a plant shop, so you could even pick up a new plant (or two) over lunch! The café offers a range of food and drink, including homemade cupcakes and muffins, banana and pumpkin bread, and Pressed Earth Juices. Bar Botanik is open seven days a week, but closes on public holidays. Bar Botanik, 289 Fitzgerald St, Perth
Plants and food can make for a great, relaxing combination. We hope this list has given you a taste of some of the greenery-filled cafes Australia has to offer. This is just a small selection of cafes that have brought the outdoors in! If you have a little spare time this weekend, why not pop on down to your local plant-filled café to relax and unwind surrounded by nature?