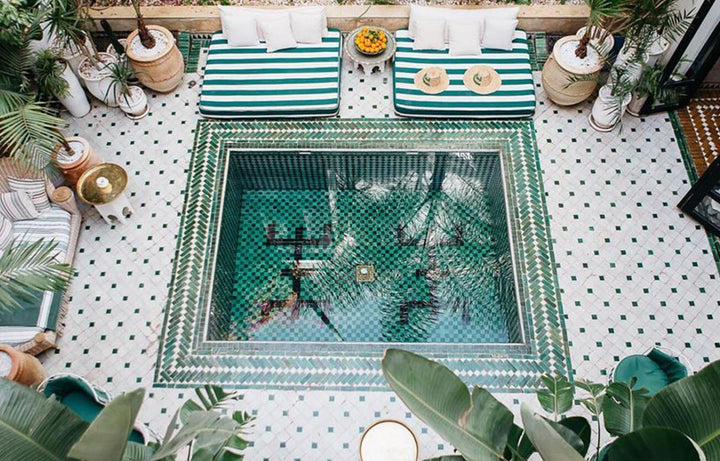 Gorgeous Nature-filled Places to Stay Around the World
The world has some stunning places to see, from spectacular natural wonders to man-made feats. Why not stay somewhere beautiful while you're exploring the world, too? There are many wonderful, gram-worthy places to relax, unwind, and be amongst nature.
We take a look at five gorgeous nature-filled places to stay when you're travelling. So, if you wish to feast your eyes on some stunning places, or are looking at inspiration for where you can stay on your next adventure, scroll down!
Riad Yasmine, Marrakech, Morocco
Located in stunning Marrakech, Morocco, the Riad Yasmine is an 8-bedroom boutique hotel.
Run by partners Alice and Gabriel, this beautiful hotel features a teal and white colour scheme, plenty of plants, and a dreamy pool and lounge area. There are even two house cats that roam the grounds (BB and Bowie), making it a great spot for cat-lovers.
Gabriel and Alice took over the direction of the hotel in 2015, transforming it into a spectacular 'urban jungle' for visitors. Each of the 8 rooms is uniquely decorated, giving guests a one-of-a-kind experience. When describing the hotel, its website states 'you will be enveloped by its bright and quiet atmosphere where only the chirping of birds comes to disturb the silence'. Sign us up!
Moroseta Villas, Italy
The Moroseta Villas are four exquisite villas available for vacation in Italy. Offering a stunning, private escape, each villa can accommodate a max of 4 to 8 guests (depending on the location chosen).
Two of these luxury stays are the Villa Casellucio and the Villa Cardo. The Villa Castelluccio in Subbiano is situated within 5-acres of olive groves, and features a pool area filled with lavender and other greenery.
Puglia is home to the Villa Cardo. Set within an acre of land (which features plenty of almond and olive trees) this villa also has a cinema hall, pool, and views of the ocean from the rooftop terrace.
Nima Local House, Mexico City, Mexico
Fans of monstera plants and greenery covering the walls should check out the inspiring pictures from Nima Local House. This hotel is located in Mexico City, and is described as 'pretty new yet pretty different.'
Filled with warm lighting and plants galore, this four-bedroom hotel also features an internal patio and rooftop terrace. Each of these features (along with the entire house as a whole) can be booked by guests.
All four of the bedrooms at Nima Local House have their own unique style and design, plus a king-sized double bed to stretch out on.
The Little Nell, Colorado, USA
If you love the idea of relaxing, mountain cabin vibes, without sacrificing luxury, then check out The Little Nell.
This breath-taking hotel is situated next to Aspen Mountain and provides ski-in and ski-out convenience for guests wishing to hit the slopes. There's even a Ski Concierge team on hand!
Those visiting during the warmer months can unwind in the pool area (which is surrounded by greenery), or participate in the many summer activities on offer, including stargazing and off-road tours.
The hotel also focuses on environmental initiatives, much of the food at The Little Nell is sourced locally, complimentary, reusable water bottles are offered to guests, and two electric car charging stations are available for use on the premises.