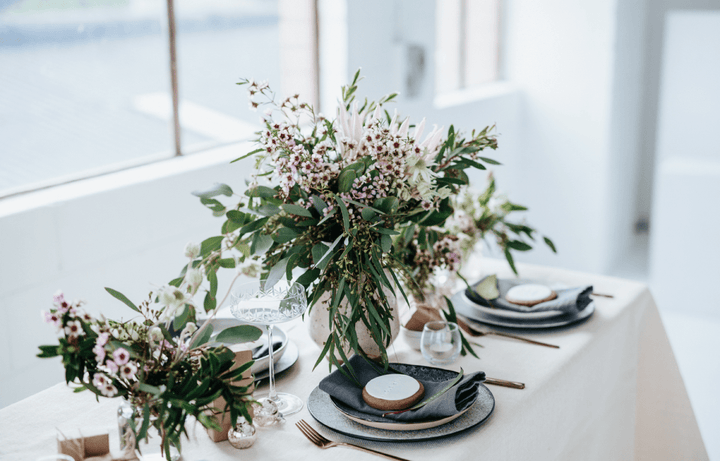 Simple, Natural Festive Table Setting Ideas for an Australian Christmas
The Christmas table setting is key to creating the right mood for friends and family to enjoy a lovely meal together. It's also fun to get your creative juices flowing and brag about how you just 'quickly put it altogether!'
Combining a variety of delights as they take a seat such as igniting their senses using colour, texture, fragrance and light can really elevate the mood.

Here are some simple tips to create a simple, natural festive table:

- Give that 'Aussie touch' by using beautiful Australian natives including kangaroo paw, banksia, eucalyptus or waratah. You may have something in your garden to use, or visit your local florist.

- Create a floral centrepiece or curate several smaller vases/jars along the table with greenery or florals.

- Keep the table setting simple and uncluttered and make a statement by running a garland of eucalyptus down the centre.

- Opt for organic, natural tableware by the addition of woven placemats. Think layers and textures!

- Linen tablecloths or napkins in earthy tones. Limit your colour pallet to a few different colours that complement each other.

- Candles to add warmth and a gorgeous scent or your favourite essential oil

- Use food such as nuts and grapes to provide a simple form of décor.
The most important thing is to enjoy this time and be grateful we live in such a wonderful country! Merry Christmas! 

Images found via Pinterest. The last image is via Michelle Canny website.