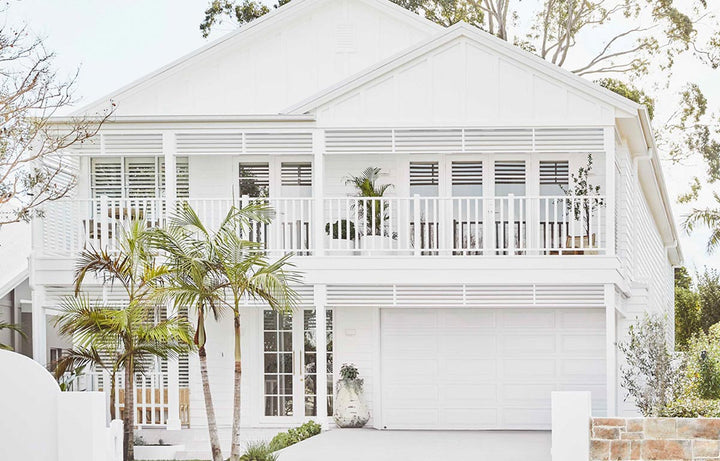 Shop the Look: Three Birds Renovations Dream Home
When best friends Erin, Bonnie and Lana ditched their corporate careers to start Three Birds Renovations, they were rookie renovators with big dreams. Fast-forward to today and they have transformed a remarkable amount of properties into family dream homes, with a fresh take on modern living.
Boasting hundreds of thousands of followers on social media and inspiring and empowering women all over the globe, The Balcony Garden has been fortunate to collaborate with this exciting trio on several of their projects.
Read on to discover what pots they've used to finish off the space for their latest build in collaboration with Rawson homes: Three Birds Renovations Dream Home.
Create ultimate curb appeal by adding a unique planter to the entryway of your home. Three Birds have used the Barcardi pot from our Bad Names Range to add impact to the entrance of this stunning property.
Nothing quite says coastal cool better than white pots around a pool or an outdoor entertaining area! Add a palm and an umbrella and you're all set for Summer. The team from Three Birds have used one of our favourite styles, the Waddle from the Willow Range, to complete the space. These pots are made from a lightweight poly-resin material, making them extremely tough and weather resistant; perfect for any outdoor space.
The Choob style of pot is the ultimate in contemporary design. Its cylindrical shape will cut a sleek profile in any space. Three Birds have used two of these super chic pots on the second-floor balcony, creating style without sacrificing too much floor space.
Who says feature pots can't be used in living spaces! Our Bacardi pot certainly makes an impression in this light-filled, contemporary space.
All images remain copyright to Three Birds Renovations.