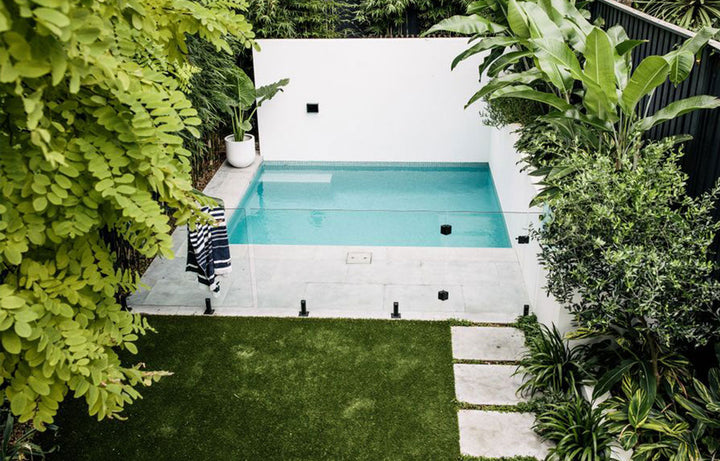 Sophisticated Sanctuary in Coogee
Expertly balanced proportions and clever combinations of colour and texture have turned this ordinary little backyard into a sophisticated sanctuary.
Before its facelift, this Coogee Beach garden was a humble, family-friendly space with some lawn, some paving and a dilapidated cubby house. Its transformation into a suave, secluded entertainer is the work of Harrison's Landscaping in Sydney.
'With two young kids, our clients wanted to create a backyard that would not only suit their current needs but would also appeal to their kids as they hit the teenage years,' explains designer Josh Harrison.
The wish list? A pool, some level lawn, an entertaining area and an outdoor kitchen – a tall order for such a small space! The project also had a tight time frame. 'We were contacted by our clients in July, and they wanted to be swimming by Christmas,' says Josh.
The snug site meant that there was limited access for machinery to dig the pool. 'With only 700mm-wide access down the side of the house, we managed to find a tiny excavator that only just fit. The fill from the pool was removed via motorized wheelbarrows down the side of the house,' explains Josh, whose split-level design was a practical decision to avoid removing too much fill from the pool excavation. 'The entire site is also built on sand, which meant the pool excavation kept collapsing. This was a real challenge for our team of form workers, who worked tirelessly to complete the project.'
Josh's smart, unfussy design divided the backyard into three equal areas: pool, lawn and entertaining area. 'By keeping the layout relatively simple, we were able to create interest using the material palette, colour tones and plants,' he points out. A light colour scheme offset by the deep green of subtropical plants gives the illusion of space and depth, while the pool's high walls serve a dual purpose: retaining neighbouring properties as well as hiding pool equipment in a custom-built shed behind the rear wall. Closer to the house, the garden's casual lounge area incorporates a custom outdoor kitchen, where a simple concrete bench top is warmed by vertical lines of cedar cabinetry.
'Given the white walls, we needed a lush planting scheme,' says Josh. 'We used a combination of heliconias, bamboo, ginger, crassula, olives and carpobrotus, which cascades over the pool walls. All of the plants are low maintenance, which suits our clients' busy lifestyles.
Undoubtedly the hero of the space, the pool (lined with stunning glass mosaic tiles by Ezzari) is a heavenly prism of cool blue. Despite the complicated nature of the project, says Josh, the young family got its wish of a poolside summer.
'We started excavation in mid-September and our clients were swimming on Christmas Day.'
Photography: Hannah Blackmore 
Landscape Design and Construction: Harrisons Landscaping and Renovate My Pool
Words: Casey Hutton for Planted magazine Planted magazine is available from newsagents Australia-wide