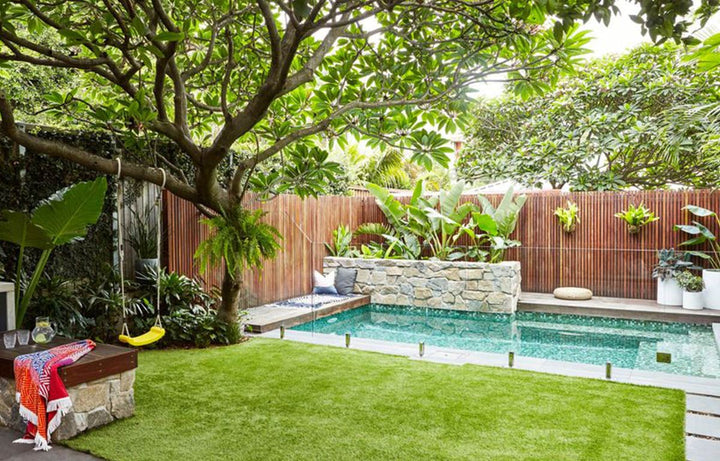 Shady Plants for your Pool Area
The warm weather is coming around again, which means you might be eyeing up your pool and thinking of taking your first dip of the season. You might also be looking to redesign your pool area to incorporate more shade-providing trees.
When choosing plants for pool areas, it's important to keep a couple of things in mind. First, try to pick shady plants that don't shed leaves in the autumn or lots of pollen in the spring. If you have your heart set on a shedding plant, plant it further away from the water. This way you can spend less time scooping litter out of the pool, and more time relaxing next to it!

Second, be sure to steer clear of plants that have invasive root systems. Invasive roots can wreak havoc on your pool and pipe systems. With that said, let's take a look at some gorgeous plants that can help provide shade for your pool area!

Palm trees

If you're looking to create a tropical paradise, poolside feeling, it's hard to look past the iconic palm tree! Try to choose a variety of palm that grows to a medium height, rather than the super-tall palms that have a tendency to shed large fronds. Kentia Palms can make a great choice for shady pool area trees. These palms can grow up to 15 metres tall, however, they tend not to grow this tall in gardens. If you want to take extra steps to keep your Kentia Palm smaller, grow it in a pot (this also allows you to move the plant around to change up the look of your pool area). These palms can be grown in rows and bunches to create greater shade coverage around a pool area. Just keep in mind that Kenia Palms do shed seeds, so try to plant them a little way away from your pool if you want to keep pool cleaning down.
Dracaena Draco

With thick, smooth trunks and pointy leaves, Dracaena Draco trees are a pretty common site along Australian coastal regions. Also known as dragon trees, these stunning plants bring beachy, coastal vibes to a pool area. Dragon trees are slow-growing succulents that can grow rather tall and wide. In fact, these trees can get as tall as 10 metres and can spread out as wide as 15 metres (that's a lot of shade creation!). Just keep in mind that Dracaena Draco trees need to be planted in soil that drains freely to grow healthily. Plant these trees in coastal or warm subtropical areas.

Heliconia 'Hot Rio Nights'

Heliconia Hot Rio Nights is a weirdly wonderful looking plant. With bright red, point flowers that grow in rows, this tropical plant really catches the eye. Heliconia Hot Rio Nights is a variety of Heliconia that can grow up to around 5 metres tall, allowing for plenty of shading. Hot Rio Nights tend to be pretty hardy plants, but they do like well-drained soil. Heliconia flowers can also bring in birds and butterflies. These plants grow quickly (which is great for those looking to create a landscaped pool area, fast), and they can also be used to create screens to provide extra privacy for a property.
Tuckeroo

This Australian native is a salt-tolerant, hardy tree that can provide a lot of shade for your pool area. The Tuckeroo is a popular street tree in Australia, and can be found lining streets and planted in communal locations across the country. In the winter, this tree begins producing small, white-green flowers that develop into fruit in the spring. These fruits can attract many native birds and butterflies to a garden, which is great news if you enjoy seeing natives flying about your space!
The verdict on whether or not the fruits are edible for humans still seems to be out, with some sources saying it is and others saying it caused them to have an upset stomach! While you should approach the fruit with care and avoid consumption without further research, there's no doubt these shady trees offer plenty of cover and beauty.

Olive trees

If you're looking at plants for pool areas, take a look at olive trees. The humble olive tree can provide good shade for the garden. Choose a fruitless variety if you wish to eliminate the shedding of olives into your pool. These trees can grow quite tall if given the space (up to about 5 to 7 metres, at max), making them great for providing poolside shade. Olive trees can grow well in areas that have hot summers, and are drought-resistant once they have become established.