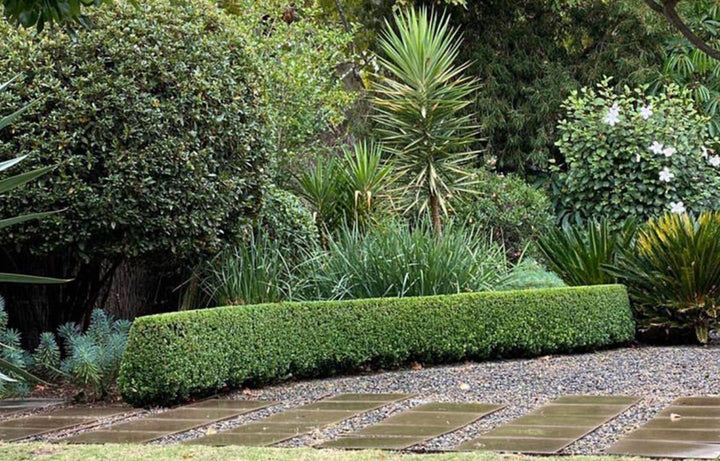 Interview Series: Dale Smith from Prestigious Gardens
Prestigious Gardens is an East Adelaide-based eco-conscious horticultural management business that strives to provide qualified gardening services to high-end boutique gardens, while also specialising in the art of topiary. Gardening is their passion and they care deeply about our planet, all of their gardening tools are battery-powered, and all other work is powered by hand. They strive for a greener future.
We have a relaxed chat with Director and Registered Horticulturist Dale Smith. 
Who inspires you?
David Goggins; 'At the end of the day, hard work may not be enough. You still may fail. But you keep going out there and go after it.' 
What are one to three books/audiobooks/podcasts that have greatly influenced your life?
- Paul Bangay, Garden Design Handbook - Clea Danaan, Mindful Thoughts for Gardeners - ABC Gardening talkback with Jon Lamb
Who is a person you consider 'successful', based on your own definition of success?
Virginia Kennett, a local Adelaide Garden Designer. In my eyes, she is successful not only for her wealth of knowledge of plants, but I admire her genuine love and care for all things Horticulture. I think she is definitely sought after by clients for this as well as her unique garden style in which she is very successful. Her work is presented in many beautiful historic homes around Adelaide. I enjoy our garden chats and swapping worm juice with each other.
If you could jump on a plane with anyone tomorrow, where would you go and who would it be with? My Beautiful wife and it would be back to the Great Smoky Mountains in Tennessee to where we eloped (under a great big old Quercus Alba aka White Oak Tree). We attempt to go back yearly but due to covid19 that may not be a possibility for some time.
Tea or Coffee?
Coffee, coffee and more coffee. Jerry Seinfeld; 'We want to do a lot of stuff; we're not in great shape. We didn't get a good night's sleep. We're a little depressed. Coffee solves all these problems in one delightful little cup.' 
Where would we find you on a typical Saturday morning?
Either in someone's beautiful garden we've guided from birth to complete establishment, or in my own garden procrasti-gardening and pottering with no real intention or goal. My happy place.
Best gardening or styling tip?
Instil consistent tough love in your garden and your garden will reward you for many years to come, oh and talk to your plants :)
What is your best daily habit?
Getting up before sunrise when all else is quiet, followed by a walk on the Linear Trail and a workout. Final stop, the local coffee shop 'Fix' - all to get the mind clear and ready for a day full of gardening.
Instagram:  @prestigiousgardens  & @designbydale_ 
Interview date: April 2020 
All images remain copyrighted to Prestigious Gardens