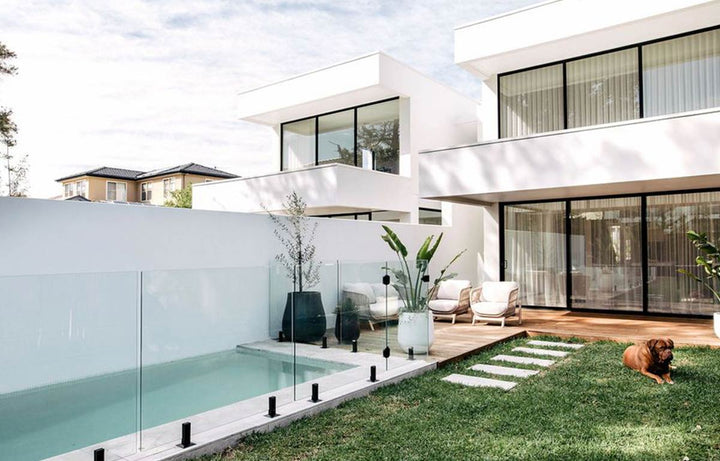 Kate Lawrence Interiors
We recently had the opportunity to collaborate with the talented Kate from Kate Lawrence Interiors for a photoshoot. Kate and her partner Luke recently completed a unique duplex home in Sydney, with one side styled with light features and the other dark.
On designing the two homes, Kate says she was inspired by the idea of creating two contrasting design styles. 'I wanted to use the opportunity to have fun with the interiors and create two totally different homes for people,' she says. 'Whilst they are mirror image in layout, I think it is amazing how different you can make a house feel just by the interior selections and soft furnishings. The dark side was more in line with my sense of style, with the black cabinetry and venetian plastered walls, whereas the light side I feel is more of a coast vibe and would appeal to the greater mass.
Before being bitten by the interior design bug, Kate worked in the media world. 'I, like many, finished high school and went straight into Uni, where I studied Media Communications,' she says. 'I then worked in a media agency for a few years and during this time my partner Luke and I did a renovation on an art deco apartment in Coogee. From here on we basically just became hooked on all things property! I knew I wanted this to become my 'full time', so I went back and studied Interior Design to broaden my knowledge and absolutely loved it.' … and she is currently furthering her skills and qualifications. 'I am now studying Building & Construction with the goal to one day become a licensed builder,' she says.
On bringing the outside in when styling a space, Kate says one important thing to remember is not to add too much. 'You don't want to overcrowd a small space; however, you may choose to fill an empty corner with a nice feature pot and plant to really bring the outside in. My favourite indoor plant is the fiddle leaf or giant bird of paradise,' she says. 'When styling your kitchen or any shelving, using natural products such as timber and stone will also add to this sense of earthiness paired perfectly with potted herbs or succulents.' Many of us love styling our homes, but living in small spaces can make doing so a little tricky at times. Kate gives some of her tips on styling small spaces to maximise space and style.
'Using light colours and finer furniture [as] opposed to dark and heavy pieces is an easy way to give the illusion that a place is bigger than it is,' she says. 'Art on walls and mirrors also add dimension to the room. Be creative with storage to maximise the space you have. For example, bench seating with storage tucked inside, storage beds and adding in shelving where possible.'

Our recent collaboration with Kate Lawrence Interiors saw Kate styling the duplex using a collection of our designer pots. She says using varying types of pots can help make a space more interesting. 'I love a cluster of pots,' she says. 'Using different sized or textured pots to offset each other adds interest to a space. When selecting your plants, make sure they balance each other out in height and size.'

So, what does 2021 have in store for Kate Lawrence Interiors? Kate says she hopes to start another duplex project. 'I am patiently waiting for the right block to come up in the hope of tackling another duplex in 2021!'


View more stunning project pics on the Kate Lawrence Interiors Insta here.
All images remain copyrighted to Kate Lawrence Interiors. Photography by Hannah Blackmore Photography.