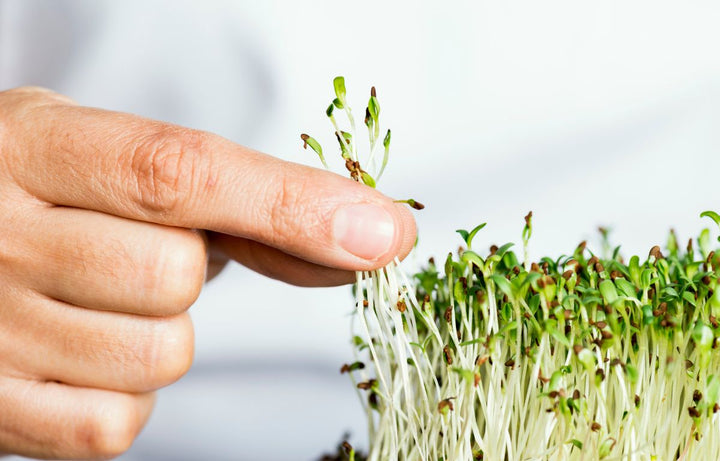 Projects For A Winters Day: Microgreens
Microgreens are vegetables and herbs grown and harvested while still at the seedling stage. They can be grown all year round and with almost any plant. Some popular favourites are beetroot, broccoli, parsley, and fennel. Microgreens are easy to grow indoors and require very little space and effort.

Microgreens are harvested at a stage when their nutrient concentration is at its peak. Because of this, they are rich in vitamins and beta-carotene which is essential for supporting a healthy immune system, promoting healthy skin, and protecting against chronic diseases. They are also a good source of minerals like iron, zinc, and magnesium, along with antioxidants that help reduce oxidative stress and inflammation and support heart health and brain function. 
How to grow microgreens:
Microgreens can be grown in various growing mediums, such as soil, coconut coir, or hydroponic mats. Fill a shallow tray or container with the growing medium, ensuring it is well-drained and moist.
Scatter the seeds evenly over the growing medium, leaving some space between them. Lightly press the seeds into the growing medium to ensure good seed-to-soil contact. Ensure you don't mix up your plants, as they will germinate at different rates.
Place the container in a well-lit area with indirect sunlight or use artificial light, such as a grow light, for 12-16 hours daily. The ambient temperate can be moderate, 15-24°C, but they prefer a humid environment.
Water using a misting spray to avoid dislodging the seeds or damaging the delicate greens. The growing medium should be moist but not waterlogged. 
Once your microgreens have developed their first set of true leaves and reached the desired height of around 1-3 inches, use scissors or a sharp knife to cut them just above the soil level. Rinse the harvested microgreens gently with water to remove any debris before consuming.

Growing microgreens can be a great way to spend a rainy afternoon indoors with the benefit of producing your own nutritional and flavourful additions to your salads, sandwiches and smoothies all year round!