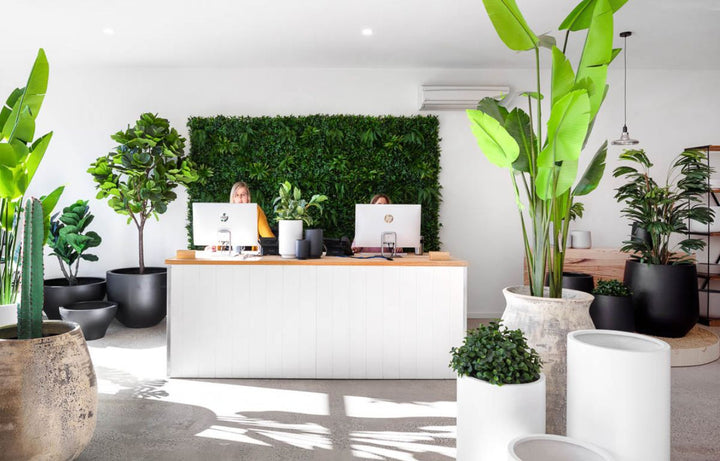 Preparing For a Showroom Visit and Ordering Online
Welcome to The Balcony Garden, where we've got the perfect pots to help you spruce up your space! But before you rush in and make your purchase, you should consider a few things to ensure you're getting the right pots for your space.

Here are some tips to help you out:
Measure Your Space: Before you start shopping for pots, measuring your space is important. You want to avoid ending up with pots that are too big or too small for your area. Grab a measuring tape and jot down the dimensions of the area where you'd like to place your pots.
Be Mindful of Traffic: While you want your pots to look great, you also want them to be safe. Avoid placing them in areas where they might get knocked over or become a nuisance. Keep them away from high-traffic areas like walkways and dining areas.
Take Photos or Videos: It can be hard to describe your space to someone else, so take some photos or videos to help you remember the layout. This way, you can visualise where your pots will fit and look like in your space.
Do Some Research: Check out our website and social media to get an idea of the styles of pots we offer. We have a wide range of styles, so it's a good idea to narrow down your preferences before you start shopping.

Measure Your Pots: Once you've chosen a style (or styles), measure the size of the pots you want to use in your space. You can use chalk to outline the diameter of each pot or cut out some newspaper or cardboard to get a better idea of how they'll look in your space.
Choose Your Colour: Now comes the fun part - choosing the colour! You can either complement the existing colours in your space or go for a contrasting colour to make your pots stand out. Our Bad Names Range and Willow Range white pots look great in rustic and Hamptons-inspired homes, while our Willow Range Concrete Grey and Charcoal colours are perfect for modern and contemporary spaces.
Remember the Plant Food: Finally, grab some plant food to help your plants thrive in their new pots. Liquid Plant Food is great for new plants, while Slow-Release Garden Booster is perfect for established ones. Both products can be used indoors and outdoors, so you can keep your plants healthy no matter where they are.

And there you have it - some tips to help you choose the perfect pots for your space! At The Balcony Garden, we're here to help you every step of the way. Happy shopping!