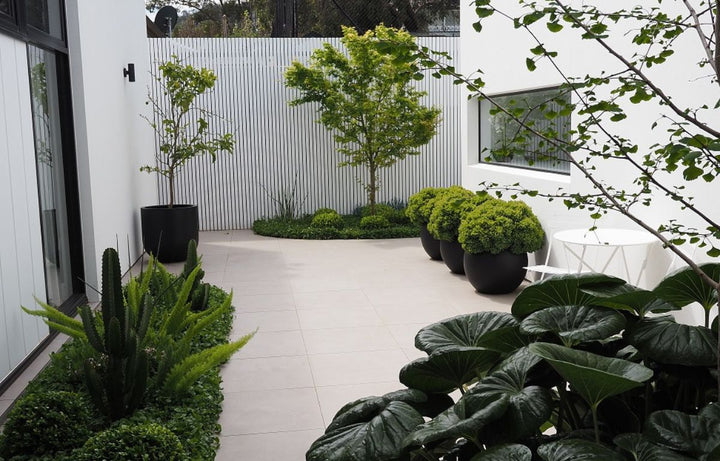 Garden Tour | Lee Gray Landscape Design
Lee Gray is an experienced and passionate landscape professional with over 20 years of expertise in the industry. Known for her dedication to excellence, Lee approaches design diversely, considering each client's unique needs and aesthetics.
One of Lee's recent projects took place in East Adelaide, where the client desired a welcoming front entrance that exuded a sense of calm and peace. The resulting garden design is a balanced yet contemporary masterpiece, featuring combinations of plants that aren't commonly found together. Notable plant selections include Chalk Sticks, Silver Wave, and Candelabra Cactus. The strategic use of these plants, along with subtle level changes, creates a seamless transition from road level to the house entrance. The lush greenery of Waterhousea and Miss Muffett beautifully frames the entire composition.
In addition to the front entrance, Lee also designed an interior courtyard that functions as an outdoor room—a space where one can sit, relax, and enjoy the ambience amidst potted plants. By incorporating pots into the design, Lee introduces soft garden spaces and textures without needing traditional garden beds or heavy construction. To harmonise with the home's interior, materials like porcelain tile have been thoughtfully used, with colour tones blended throughout. Within the garden beds, Lee has curated a selection of plants that juxtapose contrasting textures and layers, including the elegant foxtail fern, Japanese Maple, and Dichondra.
It's worth noting that this exceptional garden was created through a collaborative effort. During the design consultation phase, Lee worked closely with KlemmHomes, and Ripple Landscapes skillfully executed the construction. Ongoing expert maintenance is provided by Adelaide Horticultural Solutions, ensuring the garden's longevity and continued vibrancy.
Landscape Design: @leegray_landscapedesign
Builder: @klemmhomes
Landscaper: @ripple_landscapes
Garden Maintenance: @ahs_pty_ltd
Photography: @dronebymg