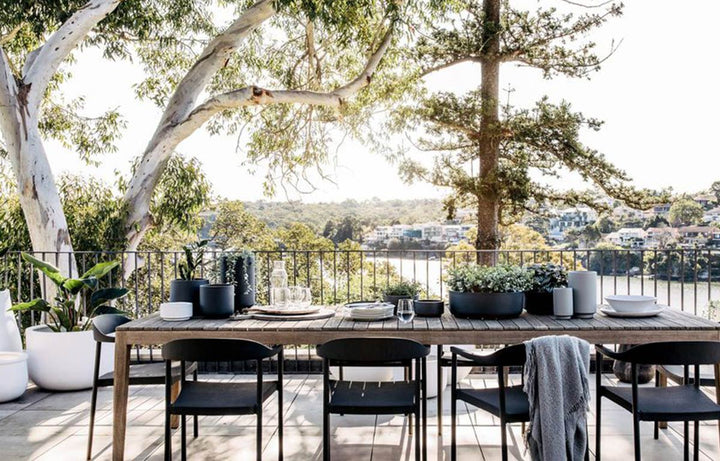 Linda Habak Design
Linda Habak Design is a boutique interior design studio operating out of Rosebery in Sydney. The studio is owned and operated by Linda Habak. Many of Linda's projects combine elements of both heritage and new to create stunningly seamless layouts.
LHD offers a wide range of services within the interior design field, from spatial planning to kitchen and bathroom designs, and lighting and furniture specification and selection. We recently collaborated with Linda for a photo shoot showcasing a variety of our pots, artfully arranged in a range of inviting home settings.
'My journey with design started in my teenage years when my textiles teacher tapped me on the shoulder and said she thought I had some talent,' Linda says.
'As fate would have it, I didn't pursue design after high school, opting [instead] to go to university and do a business degree. When I was knee-deep in the nappies and bottle and nap routines, I went back to college to study interior design for refuge and respite (I had three babies in under three years), and then my love for design was reignited and as they say, the rest is history!'
LHD recently relocated to new office space within the super-trendy La Porte Space in Rosebery. Linda says being able to share the space with other designers is one of the best parts of the move.
'Aside from the fact that it is a super cool and creative environment which inspires me to no end, the best part is sharing the space with Alix Helps Interiors and Annie Bowen Design,' she says. 'They are amazing designers and the support and collaboration has been invaluable. It's not an easy road, being a small business owner, and we have to wear many hats, but being able to walk the road alongside these two amazing ladies, and share our resources and knowledge has been the highlight. Oh, and also checking out the odd photographic shoot in the beautiful studios at La Porte – super cool!' Linda adds.
Many of us are looking for simple ways to reinvent our living spaces. We asked Linda what piece of advice she'd give to those looking to vamp up their space. 'Trust your instincts – buy what you love – buy less, but better!' she says. 'Your home is your refuge, it is a place that nurtures your soul and elevates your spirit, so make choices that stay true to your soul and represent your values as a person. Remember, it's about the joy of home!'
Linda has worked on a large range of projects, from the unabashedly bold Axis House in Abbotsford, to the modern and spacious Art House in Drummoyne, to the transformation of her own Rosebriar House. The renovation of her own cottage home didn't come without challenges. 'Right off the bat, day one of construction, we found asbestos in the roof of our stone cottage and the whole job had to be put on hold until we had it professionally and safely removed,' she says. 'Another whopper was when we found a floating rock boulder when we were excavating in preparation to lay some piers down for a concrete pour. That was fun, again, the job had to be stalled as we had to completely redesign that area of the property.'
However, Linda doesn't let the unexpected challenges of renovation put her off, instead choosing to see them in a positive light. 'As with all things that don't go to plan, they often present as a wonderful opportunity. In this case it was a blessing in disguise and gave us significantly more space around the pool area,' she says.
There are many definitions of success, and what someone considers successful can change throughout their life. We asked Linda who she considers successful. 'My version of success in my 40s is very different to the version of my 20-year-old self' she says. 'After a very long period of self-reflection (a change in career and motherhood does that to you!), I realised that my life mission is to use my talents and gifts in the creative service of others. I have been so lucky to have some amazing role models that have inspired me throughout my life, teachers, friends. Anyone living their purpose and making a difference to this world is my kind of person,' Linda says. 'The list is long,' she adds. 'Too long for this blog post!'
The idea of living a fulfilling and creative life no doubt attracts many to the design industry. But, what exactly does it take to get started in the industry? Linda imparts some advice for those just beginning their journey. 'Best piece of advice is go out and get work experience!' Linda says. 'Study is important – it solidifies your knowledge – but nothing is more powerful than experiencing things first hand, on the job! No matter how old you are coming into this industry, be brave and go and work under a designer and learn learn learn!'
Linda Habak Design
Website: Linda Habak Design 
Instagram: @lindahabakdesign 
All images are taken at LHD Residence in Hunters Hill and remain copyright to The Balcony Garden