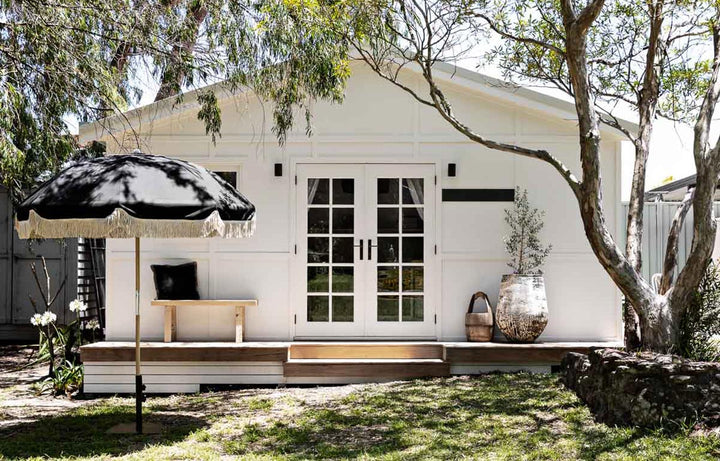 The Shack by SOUL Home
As Simone Mathews of SOUL Home, and her family embarked on their journey at the Maybe Forever site, the little fibro shack nestled at the end of the large garden was the first step towards in the major renovation. With plans to feature a small kitchen, bathroom and open plan living space, the SHACK would offer a multi-functional dwelling that suits the whole family, as well as potential guests in the years to come.
The goal was to complete the renovation on a budget of $50,000, showcasing the ways in which high-end finishes can be achieved on a modest budget, and opening the doors to the reality of sacrifice and negotiation often faced when it comes to a build.
Read on to find out if Simone was able to stick to the $50k budget!
What?
A granny flat/studio in the back garden of, what will become, 'The Maybe Forever'.
Why?
A space that pre-existed, Simone decided to renovate and keep it as opposed to remove it with the current dwelling, with plans to use the area for a variety of purposes. This could include a games room or kids retreat for the four boys, guest accommodation and potentially the SOUL design studio.
How?
Renovating with a strict minimal budget of $50,000, the project has been capped in order to enable Simone to tackle the common need to save money for the main property build. SOUL Home and BAM Construction with utilize the current structure, sourcing products from their factory inventory and approaching the purchase of materials with a firm budget.
So did Simone stay under the $50k budget?

Not quite, but very close! The grand total was $55k. Click

 

here

 

to watch Simone break down the costs.
Design: SOUL Home
Construction: BAM Construction Group
Photography: – The Palm Co.
All images remain copyrighted to SOUL Home.