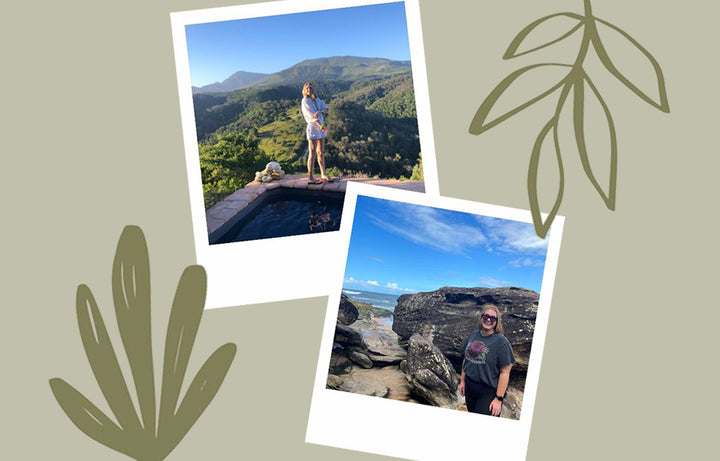 Earth Day Resolutions For Team Members Tayla & Hannah
Celebrating Earth Day is nice, but is one day truly enough? This month, The Balcony Garden team is taking time to look at what they are currently doing in their day to day and consider what changes they can make to promote a healthy planet; after all, we all share this beautiful home together!
Tayla (our new Social Media Coordinator) and Hannah (our Sydney Showroom Manager) talk through some of their environmental wins and areas they plan to improve.
Tayla is on top of recycling at home and ensuring that she always has a reusable, sustainable shopping bag on hand. Here are some other things she does in her everyday life that has a more positive impact on the planet:
- I have recently started buying bamboo toilet paper, which is wrapped in recyclable paper. Did you know that 27,000 trees are cut down every day to make toilet paper? Bamboo grows faster than trees (three to five years compared to 10 to 40 years for trees). 90% less land per finished sheet to produce as well!
- To save on plastic usage in the bathroom, I use shampoo and conditioner bars. One bar equals five 350ml plastic bottles, so making this simple change can have such a positive impact on the environment.
-I try my best to shop from fashion brands that are sustainable or moving in that direction. Otherwise, I love to thrift!
-I don't buy any Coke/Pepsi products, as they are the largest plastic producers.
What's Tayla going to challenge herself with moving forward? "I currently use laundry detergent sheets to do my washing. I'd like to give my whole cleaning regime a 'green' overhaul! So that's my focus this year."
Hannah's goal this year is to learn to ride a bike, and she promises us she'll ride to work! We're not quite sure we believe her as she'll have to ride up a massive hill each day, but she likes a challenge! Let's take a look at some of Hannah's wins:
-My mum and I have just started recycling our soft plastics via REDcycle, which you can find at your local Coles and Woolies. REDcycle collaborates with three Aussie-owned recycling and manufacturing partners who utilise recovered material to produce a range of recycled plastic products.
- I've started to invest in more reusable items, such as reusable baking sheets. I waited to finish up my existing paper first, though! It's been a great addition to the kitchen.
- I don't do particularly well in the cold, so power conservation is front of mind as we approach the cooler months. For example, I am fortunate to have heated flooring in my bathroom, BUT I only turn this on for the winter season, and I have it set to a timer, so it's is only turned on for the morning chill (6:30 am - 7:30 am.) Much like the heater, I set the timer on the heater for half an hour before I get home each day and only an hour or so once I get home which is plenty to take the chill off.
- All the simple things, which are equally as crucial as everything adds up! Turning the lights off when you leave a room, making sure my windows are closed if the heater is on, being smarter with food prep and minimising food waste, etc.
What's Hannah going to challenge herself with this month? "I've wanted to create a small herb and veggie patch for a while now, so I'm keen to get this one going! And why not start composting at the same time!"
Nice work, team!