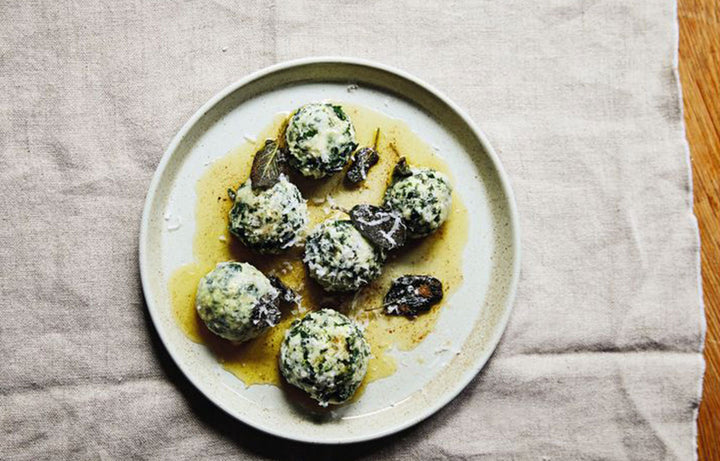 Silverbeet and Ricotta Malfatti with Brown Butter Sauce by Julia Busuttil Nishimura
Julia Busuttil Nishimura is a Melbourne-based cook, author and teacher, and the creator of Ostro – a beloved online space where she shares her food, photographs and stories. Julia teaches sell-out cooking workshops and pasta master classes and is a regular contributor to Australian and international publications, such as Country Style Magazine, The Design Files and ABC Life.
Julia has kindly shared a recipe below from her recently launched book; A Year of Simple Family Food - Delicious recipes to feed your family through the seasons. You can buy her book here!
Silverbeet and Ricotta Malfatti with Brown Butter Sauce (Serves 4-6)
1 kg silverbeet, tough stems removed
500 g bualo ricotta
100 g (1 cup) grated parmesan, plus extra to serve
3 eggs, lightly beaten
pinch of freshly grated nutmeg
sea salt and black pepper
3 tablespoons tipo 00 or plain flour semolina flour, for dusting
125 g lightly salted butter
12 sage leaves

Blanch the silverbeet in salted boiling water for around 1 minute until wilted. Drain and, when cool enough to handle, squeeze out any excess water.

Finely chop the cooked leaves and combine with the ricotta in a large bowl. Add the parmesan, egg and nutmeg and season generously with salt and pepper.

Gently fold in the tipo 00 or plain flour, then leave to set in the fridge for 30 minutes.

Roll the mixture into walnut-sized balls and coat well in semolina flour. I find the easiest way to do this is by dropping a spoonful of mixture into a well-floured wine glass and swirling it around as you would before taking a sip. The swirling motion creates a perfect sphere, which can then be tipped onto a tray of semolina flour to coat.

Transfer the tray to the fridge for at least 1 hour to allow the malfatti to firm up.
Bring a large saucepan of salted water to the boil. Reduce to a gentle simmer, add the malfatti and cook for 2–3 minutes until they float to the surface. Drain and transfer to a warm serving dish.

Meanwhile, melt the butter in a small frying pan over high heat. Once foaming, add the sage leaves and stir constantly until the leaves are crispy and the butter has browned. Pour the browned butter and sage over the malfatti and top with a good scattering of grated parmesan.
Instagram: @juliaostro
Website: www.julia-ostro.com
Photography credit: Armelle Habib