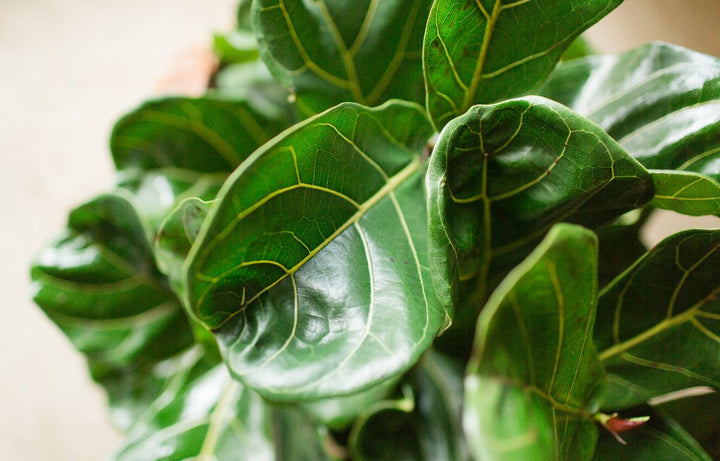 Plant Profile: Fiddle Leaf Fig (Ficus lyrata)
The Fiddle Leaf Fig, scientifically known as Ficus lyrata, is a stunning indoor plant that has gained immense popularity among plant enthusiasts and interior decorators. The Fiddle Leaf Fig makes a bold statement in any space with its large, glossy leaves and unique violin-shaped foliage. Originating from the rainforests of West Africa, this tropical plant has become a beloved houseplant in many homes across Australia, adding a touch of elegance and drama to indoor spaces.

Positioning: To ensure optimal growth, it's important to position your Fiddle Leaf Fig in a spot that mimics its natural habitat. It thrives in bright, indirect sunlight, so it is ideal to place it near a window with filtered light. Avoid placing it in direct sunlight, as it can scorch the leaves. It's important to rotate the plant regularly to ensure all sides of the plant receive equal sunlight, preventing it from leaning towards one side.
Water: Proper watering is crucial for the health of your Fiddle Leaf Fig.  Overwatering can lead to root rot, a common problem with this plant. It's essential to allow the top inch of the soil to dry out before watering again. Be sure to water thoroughly and allow any excess water to drain out of the pot. Avoid letting the plant sit in standing water, as it can lead to root issues.
Soil: The lush beauty prefers a well-draining potting mix rich in organic matter. You can mix peat moss, perlite, and quality potting soil to create a well-draining blend. Avoid using heavy soils that can retain too much moisture, as it can lead to root rot. It's also a good idea to repot your Fiddle Leaf Fig every 1-2 years to refresh the soil and provide room for its growing root system.

Humidity: Humidity is another important factor for the Fiddle Leaf Fig. It prefers a humid environment, similar to its native rainforest habitat. You can increase humidity around the plant by misting its leaves regularly or placing a tray of water near it. You can also use a humidifier to maintain a higher humidity level around the plant, especially during dry winter or in air-conditioned rooms.
Problems and Solutions: The Fiddle Leaf Fig can encounter a few common issues, such as brown spots on leaves, yellowing leaves, or leaf drop. Brown spots can be caused by overwatering, excessive sunlight, or low humidity. To fix this, adjust your watering schedule, move the plant to an area with less direct sunlight, and increase humidity levels. Yellowing leaves can be a sign of underwatering or nutrient deficiency. Ensure you are watering the plant adequately and consider fertilising it with our Liquid Plant Food during the growing season. Leaf drop can occur due to changes in lighting or temperature, so be mindful of placing the plant in a stable environment.