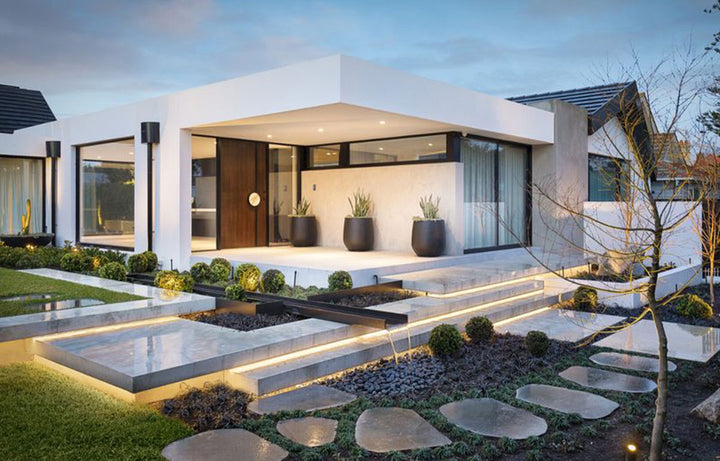 Interview Series: Steve Taylor from COS Design
Established in 2000 as a landscape construction company,
COS Design

has since evolved into a full design and project management business with an eclectic and well-rounded team that delivers high-quality bespoke designs.

With over 80 media publications and several TV features, COS Design's work is of the highest quality. Since COS Design began, the team's projects, and their associated trades, have accumulated more than 120 State and National awards, making COS Design one of the most awarded landscape design companies in Australia.

We have a relaxed chat with Managing Director Steve Taylor.

What do you do to unwind and relax?
What is that??? After just finishing my latest house build I have forgotten all about unwinding and relaxing however I had my first surf in about 4 months on Saturday along with another few thousand Mornington Peninsula locals and although it was super busy, it was beautiful and it is my happy place as is anything active and physical. Playing my guitar (poorly), golf, wining and dining with friends and family as well as the simplicity of walking my dog along the beach or sitting in front of an open fire with a glass of red are also my happy places. I have many happy places which I am very grateful for.

What's your favourite project you've worked on?
Professionally I have many such as our Alphington Project, Sorrento project and our Beaumaris project that I consider just some of my favourites. Although we have recently designed some larger rural projects in Strath Creek and Red Hill which are also very special. Recently we did a photo shoot for our Shoreham project and it has a beautiful coastal feel to it and I can't wait to see the pics for that one. Personally, my new family home has been probably my greatest achievement and although I had a number of very stressful moments, it was also a lot of fun. It was great to get my hands dirty again I must say.
All images featured are from COS Design's Cosham Road project

What's something that most people are surprised to find out about you?

Designers can often be tagged as a little precious, clean and maybe needing a large hot mug of concrete on occasions. With my career, I started as a qualified, registered landscaper and was on the tools every day and then I became a designer. I have been off the tools now for a good 12 years so when clients and/or contractors see me in my old tradies clothes knee-deep in mud or concrete feeling right at home with a smile on my face and some sense of knowledge as to what I am doing, they often are very surprised.
Where would we find you on a typical Saturday morning?

I would love to be found on any of the amazing surf breaks anywhere in the world but building a house, work and family have prevented that a touch lately but that is my plan moving forward. Alternatively at a great cafe enjoying a great breaky with my wife and family or friends.

Best gardening or styling tip?

Never underestimate the importance of the homes' architecture and decor when designing a garden and don't be afraid to evolve the design on paper as it comes to life.

What purchase of $100 or less has most positively impacted your life in the last six months (or so)?
I could say the latte I purchased this morning or the take away Spanish tapas we had a week ago (first non-home-cooked meal for a couple of months) but I will say, the 16 chem set bolts I used to hold up the beautiful circa 1890 hand chiselled darling harbour recycled wharf beam we have standing 5.5m tall in our central atrium stairwell of our new home. The stunning piece of timber is the heart and soul of our new family home and the bolts are ensuring the beam remains upright and proud.
Favourite galleries and spaces?

I can't wait to go to MONA with friends as soon as I can and as far as spaces go, anywhere on the stunning Mornington Peninsula.
Tea or coffee?

Latte
Instagram: @cos.design
Website: www.cosdesign.com.au

Interview date: April 2020
All images remain copyrighted to COS Design and are from their Cosham Road project.