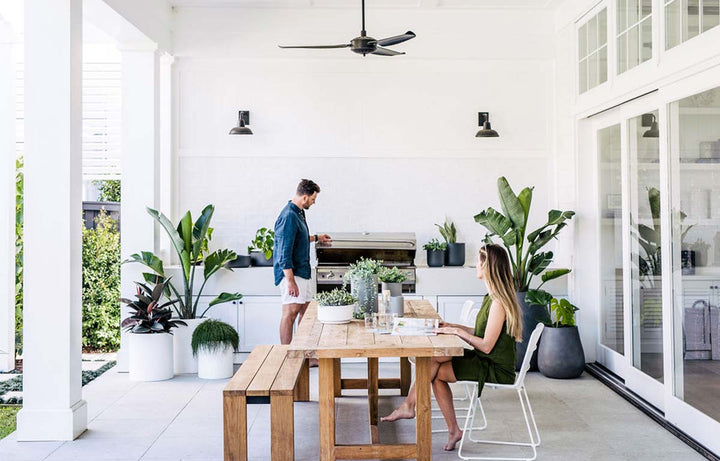 How to Bring Your Outdoor Space to Life with Pots and Plants
Outdoor entertaining is a vibe, especially when the weather starts to warm up. Private outdoor space is one of the great luxuries that some of us can only dream about.  
Balconies or patios can benefit greatly from the addition of pots and plants. Plants instantly breathe life, colour and interest into your outdoor space. If you have a balcony, patio or terrace, here are some simple ways to bring it to life with greenery. 
Know your outdoor space
The key to success is choosing plants that will thrive in your balcony garden. It's important to understand the conditions of your space and work out what plants are suited to that environment. Your main consideration will be the sun; is it direct or indirect? And protection; Is the area protected from wind or rainfall? 
What plants are best 
If your balcony faces the sun directly or is in a sunny area throughout the day, then you're only option is to select plants that can withstand full sun and summer heat.
On the other hand, if your balcony or patio doesn't receive any or limited sun, then you'll need to adjust your plant selection accordingly. Unfortunately, you won't be able to fight nature on this one!
Plants that thrive in the sun
Cacti
Succulents
Snake Plant
Agaves
Natives
Strelitzia
Shade loving plants
Palms
Ferns
Peace Lily
Fiddle Leaf
Monstera
Select the right pots
Pots play a very important role when designing your outdoor space so it's important to choose them wisely, to fully optimize your space.
Our first suggestion would be to analyse the area and see how much room you must work with as you're probably going to have to accommodate existing furniture and thoroughfares.
We recommend an odd number of clustered pots. Plants in various-sized pots add visual interest.  Another great idea is using a large statement pot. Both options are great if you need to fill dead space. If you have room, you could always do both! This would create a nice balance.
Secondly, you need to ensure that you pick the right-sized pot for the plant. It's extremely important to give the right amount of soil volume to your plants.
Maybe you need to add privacy and hide ugly walls with screening? If this is the case, choosing an oblong-shaped planter is a great solution.
What material for your pots?
This really comes down to your personal preference! You might be after a simple lightweight design that can be easy to move or suit a more contemporary space.
It may be that your space requires more texture or mood, so a more rustic pot could be a perfect choice.
We would love for you to visit one of our showrooms located in Sydney and Melbourne.
Happy planting!