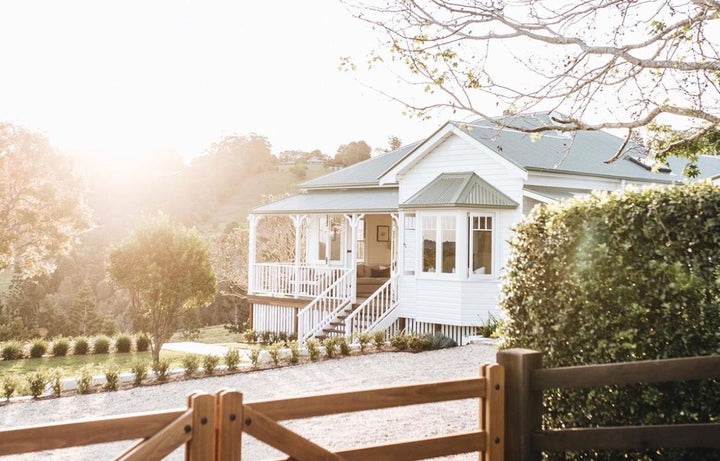 Glenfernie Farm, Newrybar
The beautiful Glenfernie Farm is in Newrybar, Byron Bay, and is a renovated 1920's Queenslander farmhouse on just under 5 acres of land. Millie, the owner, shares the home's history, its transformation and favourite aspects of living in Newrybar, and her dog Theodore's adjustment to the new location.
Glenfernie Farm is stunning. Please give us some background on the farm.
Glenfernie Farm is a 1920's original Queenslander farmhouse in the beautiful countryside of Newrybar, Byron Bay. With just under 5 acres of land, the property has been modified over its lifetime by its previous owners. Since buying the property in 2020, I have done extensive exterior renovations and internal modifications. The property's peaceful location allows you to unwind and relax but it is also only 15 minutes into Byron Bay town for the local hotspots for food and wine. 
The central part of the house has been standing for over 100 years, and the previous owners did renovations to add an extension to make it a four-bedroom. I didn't need to do any substantial structural changes to the house, apart from a bay window in the master, BBQ area, kitchen in the studio and replacing decks and cladding. I made a few changes to the house but the renovation was mainly external, with a lot of earthmoving and landscaping. The renovation took nearly a year due to COVID, weather delays, and trade shortages. 
My favourite part of the transformation is the front arch garden area. When I bought Glenfernie Farm, the whole property was on a slope (due to being on a hill), and it was a priority that we create flat, usable spaces. This front area with beautiful lush grass makes my heart beam when I sit out there with friends, drinking an Aperol on a hot day! The house has so many more spaces to relax in now, and that's what the vision was for the whole renovation.



What inspired the design and decor of the house's interior?
The property's history and the Queenslander's character give you a head start in the styling direction. I wanted to do a 'country cottage with a Byron vibe,' meaning rustic timbers, neutral colour tones, beautiful green foliage, and organic shapes. You can't go past a natural jute rug in Byron! 
I love timeless neutrals with beige and olive tones. Charcoal and olive colour palettes bring depth to the warm tones of the neutrals, which complement so well together. Inspiration comes from social media, magazines, online research and realestate.com. There are some seriously stunning properties out there. 
'The Black Barn' is a juxtaposition of the main house, where I had to change my interior design headspace to allow for concrete floors, a lot of black, rustic hardware and modern furnishings. Having both styles of buildings on the same property provides for a lot of creativity and ideas/styling. 

What are some of your favourite aspects of living in the hinterland village of Newrybar, and how does it compare to your previous home in Sydney?
You have gorgeous views and no neighbours in sight, all on a private road, yet you're only 7 minutes from the beach. It really is paradise. 
Newrybar is such a beautiful place. You have the beach seven minutes down the road, Harvest two minutes away or Byron Bay and Lennox Head just 15 minutes away. All while hearing no noise but the birds and the cows. Having the country and coastal life on your doorstep is a dream come true.
The community is amazing. My neighbours are supportive and generous with their time, helping me adjust to farm life. Harvest has to be one of my favourite local businesses and the Newrybar Merchants. It is such a treat having a fantastic deli, café and restaurant all in one, just around the corner.
Growing up and living in Sydney is a stark contrast to hinterland Newrybar - both have such a special place in my heart and both come with their pros and cons. My family and friends reside in Sydney, yet Newrybar lifestyle is simply unbeatable. I am very fortunate that many people are eager to come and enjoy Glenfernie Farm as a getaway. 
How has your dog, Theodore, adjusted to life in the new location?
Theodore loves his new farm life, adjusting quite quickly to his private 5-acre parkland. The boy is living his best life with daily beach walks down at Suffolk Park beach or Lennox Head beach. Multiple dog beaches along the Byron coastline make having a dog up here so easy. He also appreciates the guests he meets weekly with the active Airbnb. He supported me a lot throughout the renovation, being a huge stress reliever. He is surrounded by cattle and will sing (bark) at them whenever they come close to the fence line. He thinks he is part Kelpie/farm dog!
We love how you've styled your Choob pots! What's your advice when styling pots and plants?
I love the Choob pots. They elevate the space so much!
To make life easier when moving pots, I always leave the plant in its nursery pot so you can easily water or swap in and out. To cover the pot rim, I suggest planting a ground cover or hanging plant as it will cascade over the pot's side and hide the nursery pot sitting inside. 
The Black Barn is quite tall, so we went for a bougainvillea to climb across the exterior of the front to contrast the black cladding with the white flowers. Another trick to styling pots would be to position different-sized pots alongside each other to give a sense of depth. 
Book a getaway on the farm to experience it for yourself! 
Images via Millie Cooper and Homes to Love