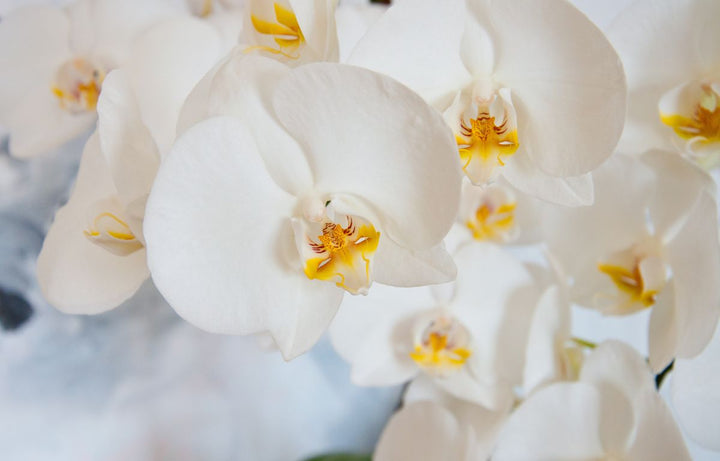 Caring for Your Orchid
For a plant that is native to every continent other than Antarctica, orchids have a bad reputation. Considered to be one of the fussiest plants out there, it is relegated to more experienced gardeners and indoor plant aficionados. Hopefully, in exploring the orchid and how to care for it, we can redeem this beautiful flowering plant and turn it into an indoor staple that any plant lover can enjoy.

Orchids don't grow in soil. In the wild, orchids are found growing from trees or moss on the jungle floor. They get their nutrients from the runoff from the surrounding flora. Because of this, most orchids are potted with either a sphagnum type of moss or a bark composite. As bark and moss do not produce nutrients adding fertiliser is essential for continuing growth and well-being of your orchid. The recommended feeding regimen is once every two weeks during the warmer seasons and about once a month during the colder ones. If your orchid is potted up with bark, it will naturally break down and will need to be replaced over time.
Orchids prefer to grow in humid and damp conditions and hate becoming dry. Frequent watering is a must. Because of this, root rot is a major concern. Root rot occurs when your plant's roots have died or are dying because there is too much water to be absorbed, and the excess water is unable to drain away or be dried out. Some signs of root rot are if the roots are soft to the touch, or your plant gives off a decay-like smell. The best way to ensure you are watering correctly is to dig your finger into the potting matter until you reach the bottom of the pot or until it reaches your knuckle. If the bark or moss is moist to the touch, water very sparingly. If it is wet, do not water at all.
The amount of sunlight your orchid will need depends on the variety you have so carefully research your orchid's preference before purchasing. As orchids are typically native to the jungle and forest areas, sunlight is usually exposed or blocked by trees and other flora at varying stages of the day and season. For growing orchids indoors, indirect and consistent sunlight should be fine for most varieties. If you notice that your orchid's leaves are yellowing, or your orchid is not flowering, move it into a sunnier position. The leaves will take on a purple tinge and become brittle if it is overexposed to sunlight.

If you purchase an orchid, it is likely to be fully mature already and will not need to be re-potted if the above conditions are being met. However, if you need to, only repot your orchid when it goes into its hibernation period and the flowers have dropped off. Causes to repot your orchid are if there are signs of root rot, the roots are pushing up and out of the planting matter, or they are too densely packed inside of the pot. Make sure you remove any old or moulding planting matter before moving your orchid into its new home. You will also need to trim off any dead or dying roots and leaves as this will promote new growth.
With over twenty indoor suitable varieties, the orchid will win over the hearts of even the most worrisome plant lover!