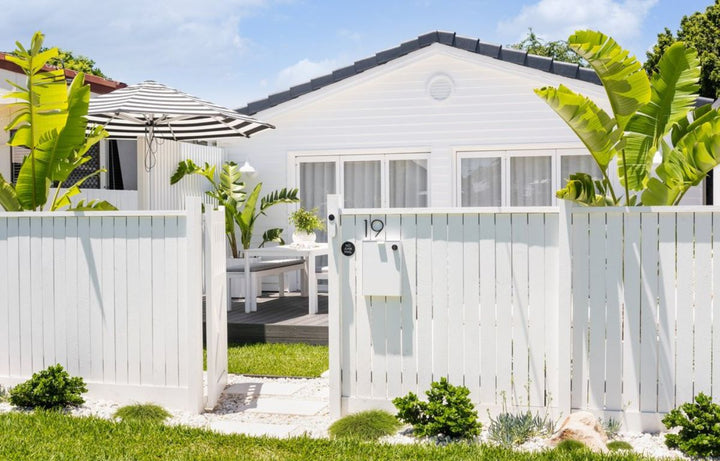 Transforming 'the ugliest house on the street' into a bright coastal sanctuary
Adore Home Magazine, an Australian interiors publication celebrates the beauty of modern, colourful homes and spaces.
Loni Parker, the Founder and Editor, and her partner Mark Zeidler, a Photographer and Videographer at Coastal Park Creative, are experienced in designing and creating homes and stunning outdoor areas. With numerous home styling and renovation projects under their belts, Loni inspires readers with gorgeous homes, the latest trends, products, and interior news in each edition of Adore Magazine.
We are sharing the transformation with you of Loni and Mark's backyard, front yard, and back of the house. When they purchased their home in 2019, it was a typical-looking 90's suburban brick house that had been a rental property for years and was in poor condition. However, the living/dining/kitchen area's pitched ceiling at the front of the house attracted them to it.
They started with a modest brick abode with patchy grass and turned it into a beautiful, white-rendered house with a lush courtyard perfect for entertaining. Their vision was to create a space that felt quintessentially coastal while maximising every inch of the available space.
After renovating, Loni describes the house as having a Californian coastal style. It features a neutral palette with lots of white and timber, with hints of blush pink and soft greys. Loni drew inspiration from her previous trips to Southern California and aimed to emulate that vibe in her home.
In this space, all of the white pots are from The Balcony Garden, the only company Loni uses for her pots. They are durable, lightweight, and feature slick designs. She has used the 'Ripple' pot on the deck, which has an on-trend ribbed detail. In the front part of the garden, they have teamed three large 'Straight Up' pots with Nicolai Strelitzia. As their root system is invasive, they didn't plant them directly into the ground, given their proximity to the fence, water pipes, and new carport. She loves how they look, as they give her the holiday feeling she sought for her outdoor space.
If you look at the blog posts linked in the second paragraph, you'll see some comparisons of before and after shots and think you'll agree that this '90s home has transformed into a stunning coastal dream!
Loni is now renovating a 1960s home into a Palm Springs-inspired beauty. Check it out here!
Follow Adore Home on Instagram or check out their website here!