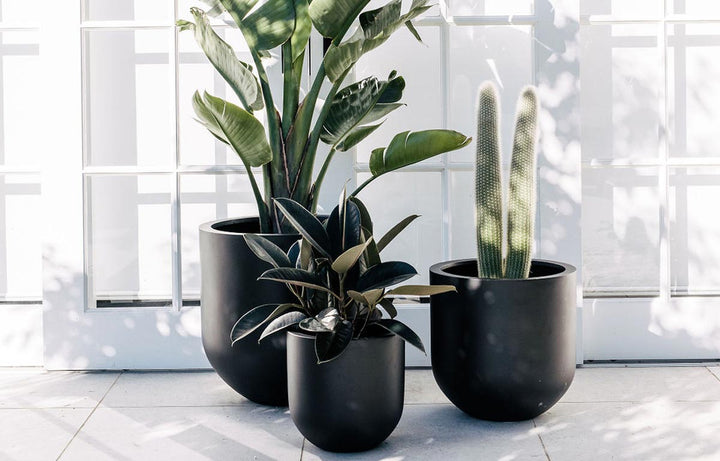 Styling Ideas for Charcoal Coloured Pots
Adding dark accents to your home is an excellent little trick designers use to create impact in a space. The same goes for your garden pots. It can tie a colour scheme together beautifully.
Black is dramatic, stylish, and timeless and provides a grounding effect in the home and/or garden.
With Winter upon us, we thought it would be fitting to provide you with some styling ideas for our Charcoal coloured pots from the Willow Range; a contemporary collection of lightweight, durable, and robust pots and planters.
Below we've featured a selection of projects where clients and customers have created some beautiful spaces utilizing dark coloured pots.
We've been following the creation of this beautiful home and garden by @jessiandkoombs, who have used an abundance of tropical and coastal plants throughout. The Dragon Tree creates maximum impact in the Straight Up cluster!
There is so much to love about this garden created by @exoticliving_syd. The charcoal JITT makes a great focal point within the stunning green colour palette of plants, and the use of natural elements such as stone and timber.
Don't underestimate the power of a feature tree AND pot! This Muffin Top and multi-headed Dragon Tree has taken this space next level. Beautiful work by @saundersgroup
The façade of this Brighton project by @cos.design was of a modern, minimalist aesthetic form, so the landscape and pot choices needed to complement this look. We love the use of the Charcoal JITT's used throughout the landscaping.
The repetition of the textural Ripple Jade plant in the Muffin Top pots is the perfect finishing touch to this courtyard by @leegray_landscapedesign
@porch.envy has used a cluster of Straight Up pots to give this bare corner some life. The Strelitzia has such an incredible impact!