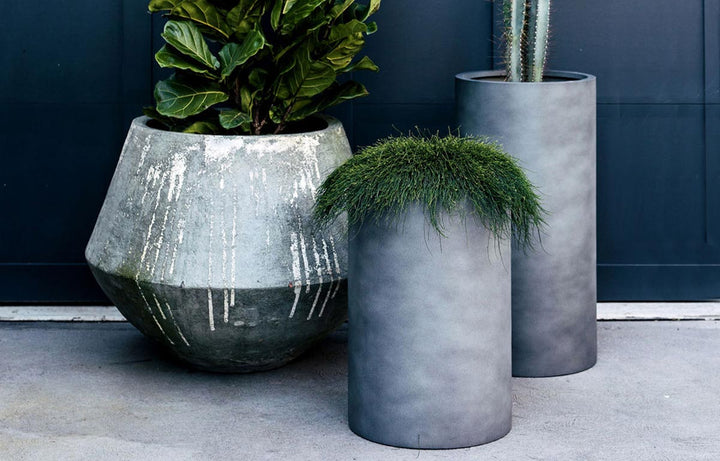 Our Top 5 Most Instagrammable Pot Clusters
There are so many amazing cluster combinations that picking our top 5 wasn't easy! In fact, the list could go on forever. Our Instagram account
 

contains an incredible amount of inspiration if you're looking at investing in your home and garden.

It cannot be denied that the JITT style is a favourite to many including @threebirdsrenovations. House 12 featured the JITT 830mm, 650mm and 500mm dia and it looks superb!
These tones and textures! If you're not sure how to mix the Willow Range and Bad Names Range of pots, here is a fine example of the Barnaby and Loobs! Loob pots featured are 600mm and 800mm h.
If you're struggling to pick your favourite pots, simply choose your top three designs and create a cluster of varying heights and widths! It's as easy as that! Pots featuring in this cluster are Waddle 700mm dia and The Chop 660mm.
Are you looking for some inspiration to achieve that wow factor with your new pots?? In this Straight Up cluster, we have used a Strelitzia nicolai (Bird of Paradise), a Ficus elastica (Rubber Plant), and a Sansevieria trifasciata (Moonshine Snake Plant). The tones in these plants work perfectly with our Concrete Grey pots. Pots featured are the Straight Up 500mm, 400mm and 300mm dia.
Now, this is our kind of front entrance! The Tub is our most classic design. This egg-shaped pot fits all spaces large or small. Unique in shape it works perfectly as a single feature or grouped in a range of sizes. The larger sized pots work perfectly with feature trees while the smaller sizes look great with small shrubs and cascading plant varieties. Pots featured are: Tub 400mm, 500mm and 630mm dia.
All images remain copyrighted to The Balcony Garden