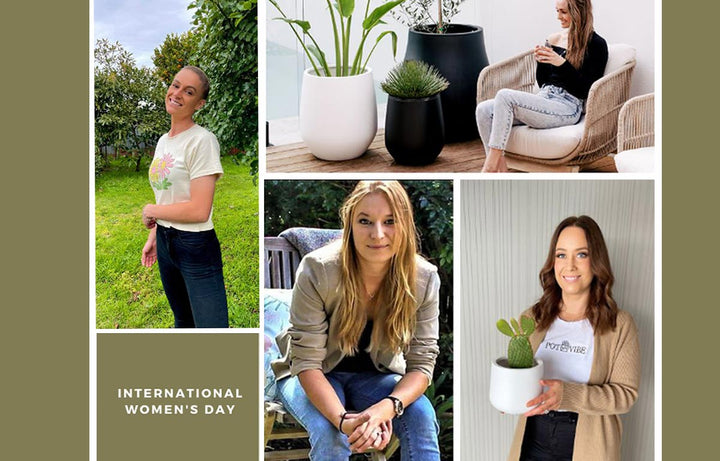 International Women's Day 2022
International Women's Day is a global day celebrating the social, economic, cultural, and political achievements of women. We sit down with four amazing women who live and breathe the landscape and design industry, and who share with us what IWD means to them. Collectively we can all #BreakTheBias.
Claudia - Grindstone Landscapes
Claudia is a residential landscape designer and Co-founder of Grindstone Landscapes based in Sydney with a passion for contemporary garden design. Claudia also holds a position as sponsorship Director on the board of the Australian Institute of Landscape Designers and Managers (AILDM) and writes a fortnightly garden column in The Weekly Times Ryde.
Have you faced any barriers in your career due to being a woman? If so, how did you overcome them?
I remember being looked at in a funny way by older tradies when I started working onsite, thinking I was "too petit" to be doing any substantial work. By ignoring the doubters and following my inner strength it didn't take long to teach them otherwise and compete with them. Knowledge is also a very powerful tool to make your mark
What women do you admire the most?
I know it is a bit of a cliché but it would have to be my Mum. She is a strong independent woman and taught me that I could do anything and not to let anyone tell me otherwise.
She was a single mum with 2 kids working in a male-dominated industry (metal foundry) herself. She was one of only a few women studying this field at a time and had to overcome a lot of stigma and did so successfully. It taught me that resilience, persistence, patience and love for what you do can break through a lot of barriers and reward you with acceptance.
What advice would you give to the aspiring female looking to enter the landscaping industry?
Believe in yourself and don't be afraid, just go for it. Be authentic and know your strengths and weaknesses. Passion and knowledge is a powerful thing and hard work will reward you in the end.
Shanice - Harrison's Landscaping
Shanice is Harrison's Landscaping Maintenance Team Leader and has been maintaining and caring for gardens in and around Sydney with Harrison's for five years. Her passion for caring for gardens started when she helped her grandad with lawn and garden maintenance on the Central Coast. Shanice loves being outdoors every day and leading a successful team.
What does IWD mean to you?
International Women's Day to me is such an important day of celebration, recognition and awareness. I love seeing everyone come together in celebrating women's achievements over the years and raising awareness for equality!
What advice would you give to the aspiring female looking to enter the landscaping industry?
Women looking into the landscape industry or any other type of trade should absolutely go for it! The best thing you can do is be yourself and don't let anything get in your way. Landscaping is an amazing industry and if you put passion into hard work, seeing the end result is incredibly rewarding!
If you could have dinner with three inspirational women, dead or alive, who would they be and why?
Princess Diana, Grace Tame and Oprah. All of these women are so inspiring in their own ways. Being able to sit with them all in one room would be so insightful and educational just to be able to learn more about their values and resilience.
Have you faced any barriers in your career due to being a woman? If so, how did you overcome them?
There's definitely been a few barriers throughout my five years of being in the landscape industry. The main one would be that I've had a lot of remarks from people about being a woman in a male-dominated workplace, and they think I'm not able to fulfil the workload. I struggled to overcome this at first, however I've learnt to focus on myself, my team and my jobs so that I can do the best work I can for my clients!
Casey - Pot My Vibe
Pot My Vibe offers a fresh perspective of how you can incorporate potted plants into your home and workplace. Pot My Vibe is an exclusive stockist of The Balcony Garden pots and are nestled near The Blue Lake in Mount Gambier, SA.
Owner Casey Allen is a self-confessed plant and interior lover, Casey built her business to inspire others how to incorporate indoor plants into our homes, styled with beautiful designer pots that complement the plants.
What does International Women's Day mean to you?
International Women's Day is a day to celebrate women from all around the globe and reflect on the progress which has been made so far; for gender equality. Women never had the right to vote, now they run countries - this is definitely something we need to take the time to celebrate.
It's also being the change for my daughter's generation to be treated as equal instead of continuously trying to prove themselves. It's also a day for us to speak up for our sisters from countries who are still unable to have a voice, in hope that one day they can experience a change.
What women do you admire the most?
I take inspiration from all women - women are incredible! The many hats we wear and our ability to work the daily, run businesses, maintain a household and get up the next day and do it all over again.
What is the most important message you want to send out to women thinking about opening their own business?
To anyone thinking of starting their own business, I encourage you to simply have a go.
Being a reasonably new start-up I still have so much to learn but I make sure I surround myself with like-minded, supportive people. You need to believe in your product or service and have a point of difference.
Last but certainly not least, show gratitude! Especially to the ones that supported you from the beginning.
Kate - Kate Lawrence Interiors
Kate Lawrence is a Sydney based Interior Designer passionate about renovating, developing and sharing her passion with her audience. She believes her strongest ability as a designer is taking the time to truly understand what it is her client is wanting to achieve rather than projecting her own sense of style onto them.
Have you faced any barriers in your career due to being a woman? If so, how did you overcome them?
I think the biggest barrier I face is when I am working on my own building projects in such a male dominated industry. It's sad to say but I have never come across one female trade on site. I've had delivery drivers hang up on me because they think they have the wrong number, simply because a female answered the phone, a contractor asked me once if my husband needed to be on site for our meeting (I didn't have a husband nor did he need to be on site 🤣). It's just those little reminders that you're not a male and that I am in an industry which society once would have told us we shouldn't be in.
I obviously have been blessed to have an amazing team of men work around me but yes, it's something you do face. When instances like this occur, it inspires me even more to share my experiences of building, developing, and designing online so other woman feel comfortable to enter into that industry. Hopefully one day we will see more woman in this space.
If you could have dinner with three inspirational women, dead or alive, who would they be and why?
I have two!
Melanie Perkins (Creator of Canva ) - I think she is an absolute boss and hustler! I have so much respect for anyone who has created a product or platform. You can have a great idea but that doesn't guarantee you instant success. She's just a hard worker & I would love to personally meet her
Kayla Itsines (SWEAT) - I followed her journey back when she had an Instagram following of about a thousand or so people. I even emailed and asked if I could purchase a PT plan prior to her starting her Bikini Body Guide which is now known as SWEAT. She now has a following of 14 million and has built an empire, all whilst staying humble, committed and passionate to her cause. Again, another hard-working woman I would love to meet.
What women do you admire the most?
Cliché but my Mum. She's selfless, humble & loyal. She is the most solid thing in my life who I rely on so much. She has an unwavering love for myself and siblings and she believes in every single idea I ever have (even if it's terrible).

My sister I also admire greatly. These are real woman I truly know and not just their highlight bio. Ashley has a kind heart, is raising two little girls to be independent and fierce whilst being very successful in a corporate role.