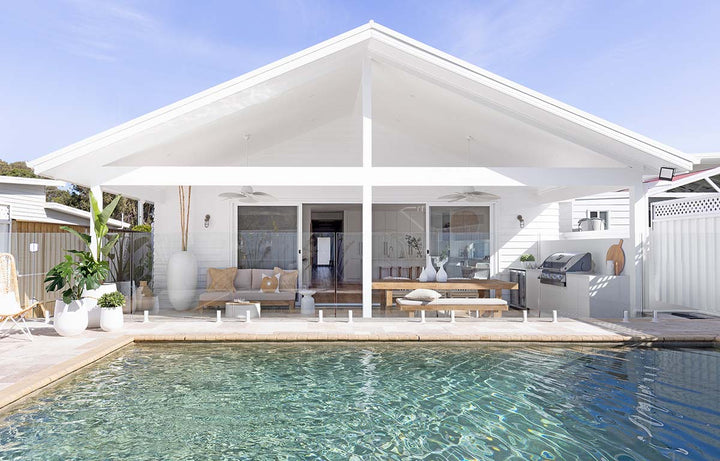 HAAUS Interior Styling and Design
HAAUS. is the passion project of two friends, Rebecca, an experienced interior designer and Alliera, a seasoned renovating pro and stylist. They provide a full-service property styling and design service servicing the South Coast, Wollongong and beyond. 
Recently launching their stunning project titled HAAUS2, the team utilised a trio of JITT pots to style around the pool. 
Rebecca and Alliera take us through their decision process for garden pots and a project wrap-up. 
One of the easiest decisions we made when styling HAAUS2 was which pots to use! We wanted pots that looked amazing and were weather-resistant and lightweight. 
Our biggest dilemma was not where to purchase the pots but what to select. With so many beautiful styles to choose from, we finally decided on a set of JITT pots to style our pool/alfresco area. We did not doubt that they would look amazing in this area. 
We had a few hands on deck when the pots arrived because they looked heavy. But wow, how wrong were we! The pots are incredibly lightweight and were moved around effortlessly. This was a bonus as we constantly moved things around during the initial styling stages until we found the perfect spot.
We then went to a local nursery and sourced plants to fill the pots (we took the pots with us so we could get a feel for how each plant would sit). Once again, we had some big decisions as every plant looked terrific in the pots. Multiple people passing by stopped to ask us if they could buy the pots from us, but there was no way we were leaving these out of our sight.
It is safe to say that we will be returning to The Balcony Garden time and time again. The pots looked perfect in every corner of the home: on our front porch, in our alfresco area, our indoor spaces but for now, they have found the perfect spot beside the pool. They have transformed the space and created an overall 'wow' factor.
Goal?
Our goal was to complete an entire home renovation on a budget of $550,000. This included knocking down most of the previous home, turning a single car garage into a double garage, adding an extra bathroom, including a media room and redesigning the kitchen, laundry, dining, living, alfresco and pool area. Landscaping also needed to be included in this budget.
What?
A four-bedroom coastal home, two bathrooms, powder room, media room, kitchen/bar pantry and butler's pantry, study nook, living/ dining, pool/alfresco.
Brief?
Alliera's parents were downsizing from the family home and, once renovated, would call HAAUS2 home. The home still needed to be a reasonable size as Alliera's parents have eight grandchildren. The design brief was a home that oozed a coastal lux feel and had space for the grandchildren to stay over. It also had to include a beautiful alfresco area for entertaining family and friends. Other 'must haves' were a media room so Alliera's dad could sit and watch the footy without interruption and a kitchen big enough for Alliera's mum to cook for the entire family.
How?
Renovating can be stressful at the best of times, especially on a budget during a period where materials were increasing almost daily. Then came the COVID-19 pandemic, which saw construction in lockdown for several weeks, pushing handover time by several months. The best advice for people wanting to renovate or build their homes is to take the good with the bad. It is improbable that everything will go to plan, no matter how organised you are! Once you move into a home, all the hard times will seem like a distant memory. 
Check their amazing work out on Instagram or visit their website for more info!