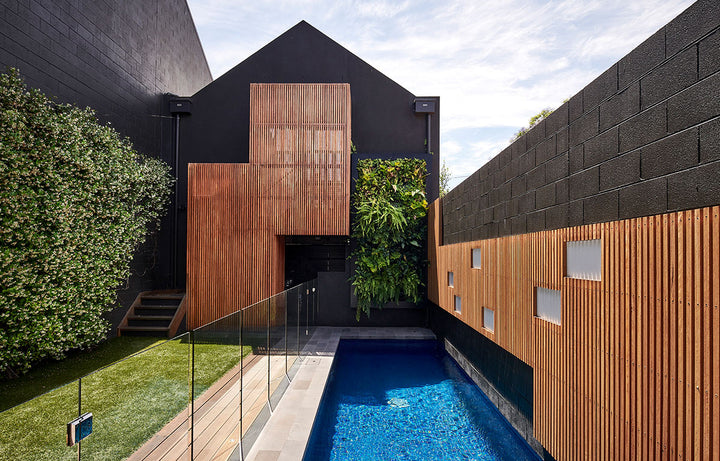 Garden Tour | Out From The Blue
Based in Melbourne, Out From The Blue was established in 1995 with a vision to seamlessly integrate contemporary landscape design with high quality construction of concrete swimming pools. Over the years, OFTB has grown to comprise a team of landscape architects, horticulturists and in-house pool builders who work closely on each project to create highly individual, imaginative and exciting landscape outcomes.

OFTB draws inspiration from other design disciplines such as furniture design, interior design, lighting and architecture to seamlessly bring their projects to life. Now, as one of Melbourne's leading residential landscape architecture studios, Out From The Blue is expanding its practice both interstate and internationally.
The OFTB team have been kind enough to take us on a virtual tour of their Albert Park project, proving you don't need a huge backyard to have everything you need, pool included!
The thoughtfully designed pool and pool feature wall blend with the existing architecturally designed house and garage which form dominant features at either end of the courtyard. The pool proportions were carefully considered to fit in the courtyard space, ensuring a good balance between the enclosed pool area and non-enclosed area and light panels in the feature wall reflect the timber cabinetry within the house, encouraging the relationship between the indoors and outdoors. The green-blue ceramic pool tile was carefully selected to compliment the green wall to the far end of the pool and to the warehouse to the west. The lights are linked to the swimming pool Pentair iPhone app enabling them to be switched on/off along with the pool lighting. The light panels are LED, therefore requiring very little energy to run and little ongoing maintenance.
It's easy to see why Out From The Blue won Gold in the 2019 SPASA Victoria Awards for Best Residential Concrete Pool under $100k and Best Lighting Feature.