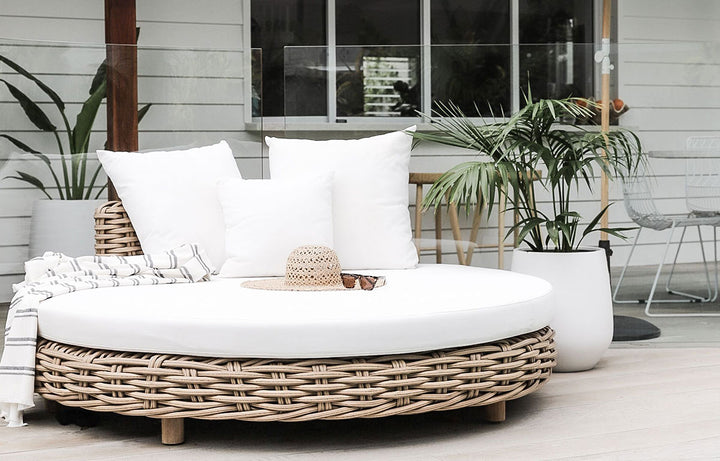 Garden Tour | The Style Chapter Co
From an 80's redbrick beast, to a coastal oasis, this young Sydney family has created an outdoor area that suits them perfectly.
Who lives here: Philippa, her husband Ben, and their two children
"We love to entertain all year round, so when redesigning this 1980's redbrick home, it was important for us to have an open-plan kitchen, dining and living space that opened onto the outdoor area. The outdoor area is the hub of our home, and we spend just as much time outside, as we do inside.
"Following the renovations, when it came time to furnishing and styling the outdoor area, we knew we wanted high quality furniture and plants to withstand the harsh Australian elements. We also wanted unique pieces. We engaged Debbie Cohen from The Style Chapter Co to help bring our outdoor area to life, and she really understood our brief. She helped create zones, such as the pool area with daybed, lounge area with firepit, and BBQ and dining area, all which now makes entertaining such a breeze, especially with kids." Says Philippa.
"The servery window has been a great feature, as it's so convenient being able to pass food and drinks out from the kitchen. It's really informal and that's how we like to live. It's also created another work space for me, as it's a great spot to perch at the bench with my lap top and work.
Decisions to go with high quality, easy maintenence products such as Millboard Composite Decking, hardy plants, and lightweight, weather resistant garden pots from The Balcony Garden has made outdoor living a dream."