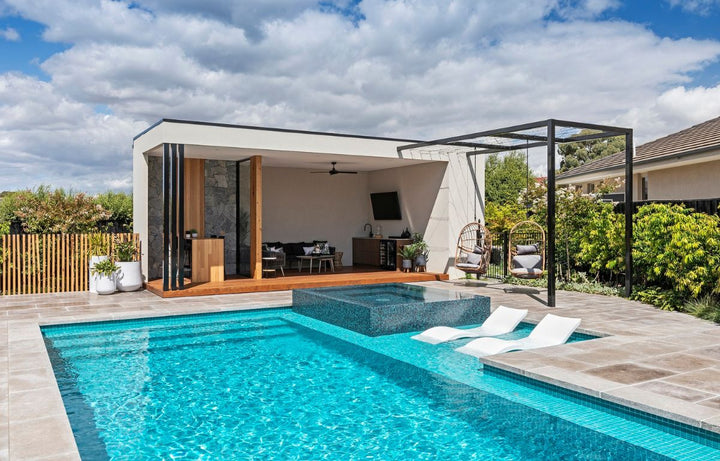 Garden Tour | Landart Landscapes
The Greensborough project was a remarkable transformation. Initially, the homeowners had created their residence and partially landscaped their property years ago. For the section they wanted to be landscaped, they envisioned a stunning oasis harmonising with their existing home and surroundings.
Landart Landscapes took on the challenge and delivered a landscape design that exceeded their expectations. At the core of the design, a spacious pool and a spa, adorned with Neptune ceramic tiles and a mesmerising mosaic infinity spa, served as the focal points. Adjacent to this, a thoughtfully designed pool house featured two distinct areas: a generous relaxation zone with outdoor lounging and kitchenette and an intimate dining space, separated by clear windows and elegant timber posts.
Around the rear of the pool house, a picturesque granite crazy paved path, led to a secluded firepit area. Here, a custom curved concrete bench seat with a corten steel edge and granite pebble base provided a perfect retreat.
To soften the defined lines of the hardscape design, they carefully selected a variety of plantings. Pleached waterhousias contributed to a semi-tropical vibe, while crepe myrtle and maple trees added height and interest. A diverse underplanting featuring various textures and colours brought the landscape to life, ensuring year-round visual appeal.
Landart Landscape Design & Construction
Photographer: Patrick Redmond