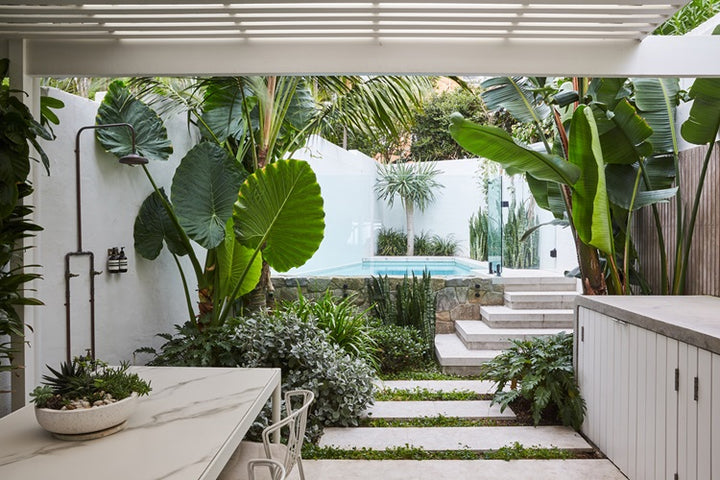 Garden Tour | Harrison's Landscaping
Sydney is renowned for its breath-taking coastal beauty, and once again, Harrison's Landscaping has demonstrated its landscape architecture expertise in a completed project at Bronte. With their thoughtful approach, they've turned a small property into a coastal paradise by seamlessly integrating an outdoor kitchen, lush garden, and swimming pool.
This landscaping marvel started with a labour-intensive excavation, all done by hand, to create the stunning pool. The pool is not merely an amenity; it's the heart of this backyard oasis.

At the pool's far end, an awe-inspiring dragon tree stands tall, infusing an exotic flair into the modest backyard and creating a unique focal point.

To elevate the tropical atmosphere, the landscape design team thoughtfully selected a variety of plant species. Strelitzia, Alocasia, Sansevieria, Kentia palm, and the Dragon Tree were strategically positioned throughout the backyard, enveloping the area in lush greenery.

Along the walls, Beaumontia grandiflora and Madagascan jasmine thrive, adding an additional layer of charm and privacy to the landscape.

It also includes an inviting outdoor kitchen and entertainment area, making it a multifunctional space catering to relaxation and socialising. This versatile space is perfect for hosting gatherings or simply unwinding with a good book in the warm coastal breeze.
Design & Landscaping: Harrison's Landscaping
Instagram: @Harrisonslandscaping
All images remain copyrighted to Harrisons Landscaping