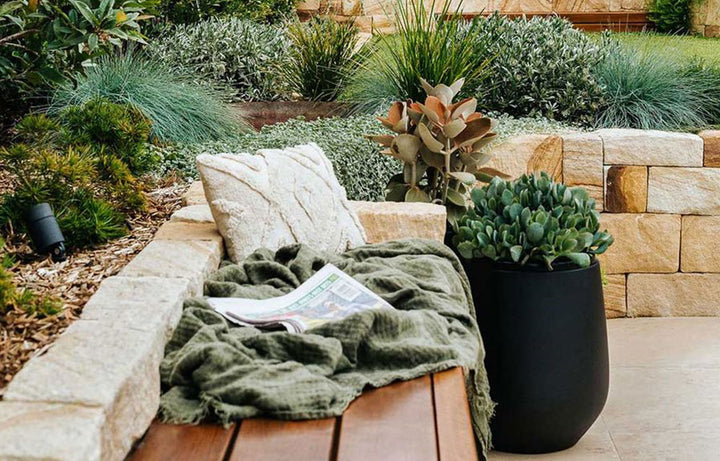 Garden Tour | Exotic Living
Exotic Living is a carpentry and landscape design and construction business based in Sydney. Through a love for the craft, they offer quality workmanship with a fine eye for detail and innovative designs personally tailored to every client's criteria. At the heart of all designs is an ethos of innovation, visual interest and practicality to complement the client's lifestyle.
The business was established in 2019 by Directors and brothers Mitch and Joshua Kushturian. Mitch is a licensed landscaper, and Joshua, a licenced carpenter.
After recently taking part in three winning projects, on the 2020 and 2021 series of the tv show "The Block", Exotic Living was also awarded a silver, in the national industry recognised "Landscape Excellence Awards". Along with being a national finalist and state winner of "Carpentry Australia and Milwaukee Build of the Year", being judged on innovation, design and craftsmanship.
Mitch designed the project to combine natural materials with hardwood timber and sandstone. The garden was softened with a native planting scheme of silver and blue hues. The aim was to create a relaxing warm space with birds and butterflies attracted by the flowering natives, tranquil sounds of the water feature and spots to bathe in the morning sun. The craftsmanship is evident with timber stairs built within the hand-shaped sandstone blocks.
The mixed cluster of Jitt and Waddle pots in charcoal provides a bold statement and features among the natural elements; the contrasting foliage's of Crassula max cook, Crassula bluebird and Copper spoons.
Design & Landscaping: Exotic Living
Instagram: @exoticliving_Syd
Photographer: Lexi Markovic
All images remain copyright to Exotic Living