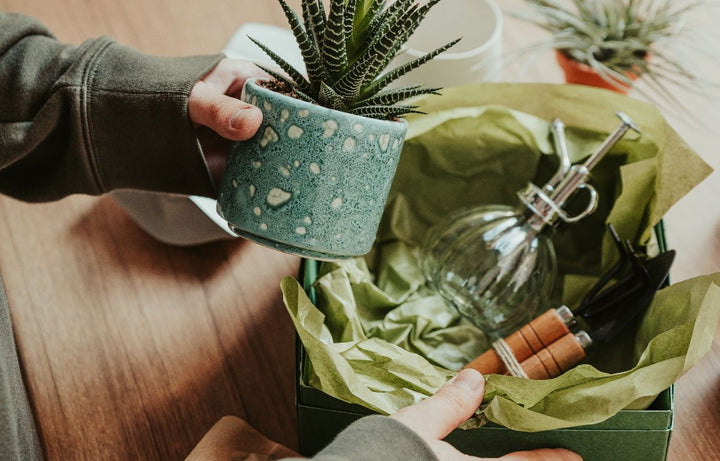 Celebrating Plant Lovers: Excellent Gift Ideas
As the festive season approaches, surprise your newfound plant enthusiast with budget-friendly yet thoughtful gifts! Elevate their plant care experience with these affordable and practical present ideas that won't strain your wallet.
Plant Mister
Plant misters allow enthusiasts to maintain optimal humidity levels for their plants, preventing issues like dryness or stress. Additionally, it adds a therapeutic aspect to their gardening experience, as the act of misting can be a calming and meditative practice. Moreover, a stylish, well-designed mister can also serve as a decorative element in their indoor garden.
Gardening Tools
A set of high-quality plant care tools is a practical and thoughtful gift. Include items such as pruning shears, a watering can, a misting bottle, and a soil moisture meter. There are so many different styles, colours and materials to choose from which is great if you are worried about doubling up on tools your house plant enthusiast might already have. Don't worry, these are also items that a dedicated plant enthusiast can never have too many of!
Tool Maintenance And Care Kit
A gardening tool maintenance and care kit can be a thoughtful and practical gift idea for someone who enjoys gardening. A well-equipped tool care kit can prolong the lifespan of gardening tools to ensure they remain in good condition for years to come. Tool maintenance and care kits will come with an assortment of different products and tools, but you can also make your own for a more personalised gift. The kit should include waterproof gloves, a stiff bristle brush to remove dried dirt, a mill file or sharpener for dull secateurs and shears, and lastly linseed soil to rehydrate dried wooden handles and provide a shine to their metal tools. 
Plant Care Books
Books on plant care are not only great coffee table displays, but they are an excellent reference for new house plant enthusiasts. Look for titles that cover a wide range of topics, such as plant identification, watering techniques, and troubleshooting common issues. These books will provide valuable knowledge and help them become more confident in their plant care skills. If you know your house plant enthusiast has a particular interest in succulents then gifting a succulent-specific book adds a personalised touch to the gift. 
Plant Watering System
Although this is no substitution for regular plant monitoring, for those who often forget to water their plants or travel frequently, a plant watering system is a lifesaver for any house plant enthusiast. These systems can be set up to automatically water plants at regular intervals, ensuring that their green friends never go thirsty. A less high-tech gift is watering globes. These come in a variety of different shapes and materials and can be a thoughtful and expensive alternative. 
Plant Fertiliser
Now that we are in the growing season for most plants, help new house plant enthusiasts keep their plants healthy and thriving with a selection of plant fertilisers. Choose organic options that are safe for both the plants and the environment. Fertilisers often come in either a concentrated liquid form or a pellet variation. You might like to incorporate the fertiliser with a fancy water can for a bundle gift.
UV Grow Light
UV grow lights mimic natural sunlight more closely than regular indoor lighting, promoting photosynthesis and stimulating essential processes in plants. Although this gift can be on the pricier side, it is a must-have if previous plant growth has failed due to poor natural light. It will not only ensure that your recipient's plants thrive in dimly lit conditions but also show that you have considered the potential issues and concerns your house plant enthusiast might be facing. You will likely find that it is often a tool they have not thought to purchase for themselves. 
Glass Plant Tubes And Stand
Gifting plant tubes to plant enthusiasts is a fantastic idea because it offers a creative and innovative way to display their green treasures. Plant tubes provide a visually appealing and space-saving solution for showcasing a variety of plants including propagated stems. These sleek, transparent containers allow enthusiasts to appreciate the beauty of their plant's foliage and root growth from various angles while protecting them from dust and potential damage.
Plant Stakes
Plant stakes offer vital support for plants, promote organisation, and elevate the overall aesthetic of indoor and outdoor gardens. This thoughtful gift enhances their gardening experience, by not only showcasing care for their beloved greenery but offering a structured artist element, helping your house plant enthusiast create a well-supported feature plant and promoting healthier growth.
Weatherproof Plant Labels And Twine
Gifting weatherproof plant labels to plant enthusiasts is a great way for them to maintain well-organised plants, ensuring they can easily identify and care for each one individually. Treated twine is another lovely addition that house plant enthusiasts may not realise they need but has many uses from tying plant stems to stakes for support to gathering foliage for better pruning or air circulation. Both are practical gifts that will enhance your house plant enthusiasts' gardening experience year-round. 
Seedlings Or Cuttings From A Favourite Plant
Perhaps the most heartfelt gift depending on the significance of the plant your seeds or cuttings come from. Whether it is a cutting from a childhood climbing tree or the seeds from a loved one's favourite flower it is a touching, sentimental gift that any house plant enthusiast will surely treasure.
Flower and vegetable seeds are also a great alternative to full-grown plants that can easily be stored for the next growing season and are usually much more affordable. 
Remember, when selecting a gift for a new house plant enthusiast, consider their specific needs and preferences. By choosing a gift that aligns with their interests, you'll show them that you support their newfound passion for indoor gardening as well as provide them with useful tools to help them on their house planting journey!