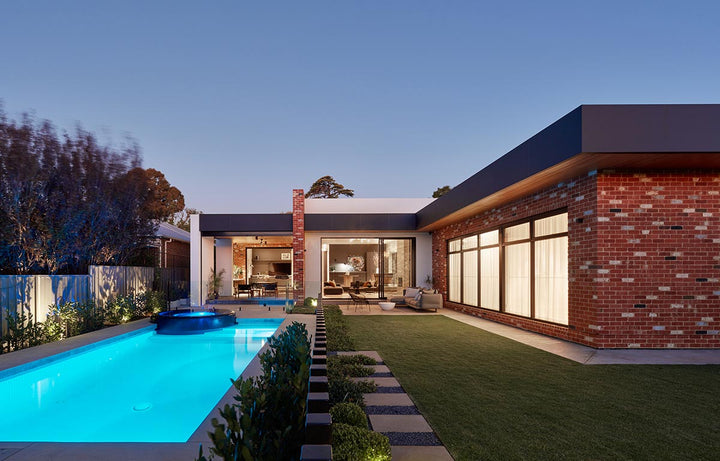 Garden Tour | Elite Pools and Landscapes
Located in beautiful Adelaide, Elite Pools and Landscapes possess a wealth of experience in all forms of outdoor design and construction and are passionate about transforming your entire outdoor space.
From conception to completion, the skilled team help you design your perfect pool and landscape. Elite offer a complete service including all garden design, landscaping, fencing and construction requirements which are specific to your individual project. With over 50 years' experience in both the construction and renovation of new and existing pools and spas, Elite combines extensive knowledge with class-leading technology and cutting-edge design to create your dream garden.

"The meeting of light and dark; our pool and spa combination is the centrepiece and hero of this elegant suburban backyard. The black tiled wet edge spa is a striking visual feature, creating contrast against the architectural concrete pool surround. A simple yet effective landscape design rich in lush greenery allows for entertaining with ease. A tiled alfresco spills out into the sunshine and provides access to the L-shaped lawn area, perfect for child's play.
Soft ground cover matures around the steppers, paired with a small, yet mighty hedge that has been planted along the border of the property to grow into a privacy screen. Once you enter this backyard, you are totally transported out of the suburbs and into a secluded oasis." - Elite Pools and Landscapes
Design and landscaping: Elite Pools and Landscapes
Pool designed and build: Elite Pools and Landscapes
Architecture: Think Architects
Home: Heading Constructions
Landscape construction: Outscape Design and Construction
Architectural concrete: Zagari Concrete
Photography: Sam Noonan
All images remain copyright to Elite Pools and Landscapes.