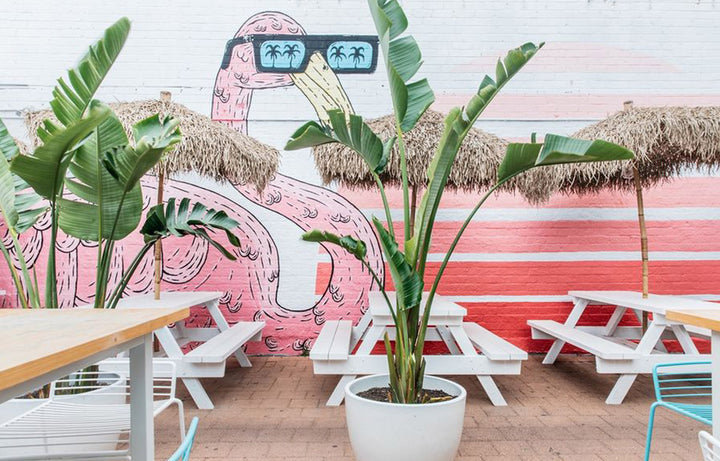 Sunset Diner
Miami-inspired Sunset Diner, located a short distance from beautiful Avalon Beach boasts delicious American style burgers, griddle dogs, healthy salads and a drool worthy dessert menu.
Executive chef and owner Ben Varela, has worked at some of Sydney's renowned venues such as Paddington's Four in Hand, The Collaroy and Bistro Moncur. Ben lets us in on how he was inspired to create such a fun space.
Q: We are seriously swooning over the pastel pink walls, neon lights and relaxed summer vibe of Sunset Diner. How did you come up with this concept? I bet you had some fun with the design. Tell us about it!
A: The design was fun but I owe most of the concept to my lovely wife Kate. We fell in love with Diners whilst travelling and thought it would be great to have something in our local neighbourhood that every age of the community could enjoy. The pastel colours were a nod to Palm Springs & Miami.  We worked very closely with Guru projects and they did an incredible job of bringing the vision to life.
Q: We see you've used a lot of greenery throughout the diner (we also see some of our pots!) How necessary was it to utilise greenery throughout the venue?
A: We didn't have plants until the last minute and we knew that we needed that 'something' to bring the diner to life. The team from Living Areas assisted with the install. They sourced the pots and plants which helped to elevate the space. The greenery softens everything the more we add the happier I am. (Your pots are mint 😊 )
Ben has kindly shared a delicious recipe for you to try at home. Enjoy!
Super Easy Key Lime Pie
22cm Pie crust
3 cups sweetened condensed milk
½ cup sour cream
¾ cup lime juice Lime zest
Preheat oven to 175 degrees
Combine condensed milk, sour cream, lime juice, and lime rind in a bowl. Mix well and pour into pie cracker crust.
Bake in preheated oven for 6 to 8 minutes you will see little bubbles appear, make sure you don't brown the top.
Cool the pie down and refrigerate. Serve with Whipped cream and fresh lime wedges
Sunset Diner, 41 Old Barrenjoey Rd, Avalon NSW 
Instagram: @sunset_diner_avalon 
Website: www.sunsetdiner.com.au 
All images remain the copyright of Sunset Diner